May 25, 2016
Diabetes Rates Were Lower in More 'Walkable' Neighborhoods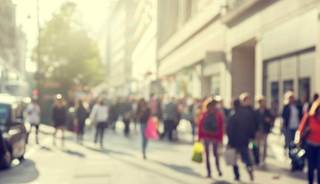 Pedestrian-friendly neighborhoods had lower rates of diabetes.
(HealthDay News) — Pedestrian-friendly ("walkable") neighborhoods have reduced rates of diabetes, according to research published in the Journal of the American Medical Association.
Gillian Booth, MD, a clinician scientist with the Li Ka Shing Knowledge Institute of St. Michael's Hospital in Toronto, and colleagues judged 8,777 urban neighborhoods in Ontario. They scored a neighborhood's walkability based on 4 factors: population density, residential density, walkable destinations, and street connectivity. The research team then used more than a decade's worth of data from Canadian health surveys to compare neighborhoods and see if walkability plays a role in preventing obesity or diabetes.
Rates of walking, cycling, and public transit use were significantly higher in the more walkable areas. People also tended to drive less often in walkable areas. Exercise, diet, and smoking patterns did not vary between the neighborhoods.
In 2001, the adjusted prevalence of overweight and obesity was lower in the highest walkability areas compared with the lowest (43.3% vs 53.5%); the adjusted diabetes incidence was also lower in the highest walkability areas and declined by 2012.
Between 2001 and 2012, the overweight and obesity prevalence increased in less walkable neighborhoods, while the prevalence did not significantly change in areas of higher walkability; however, diabetes incidence did not change significantly in less walkable areas.
"We know that the differences weren't because people in the most walkable neighborhoods were going to the gym more," Dr Booth told HealthDay. "Their overall leisure time activities were not different, in terms of amount of energy expenditure. The difference we saw really came down to differences in transportation."
Reference