July 13, 2016
Bed Rest Reduced Muscle Mass, Insulin Sensitivity in Healthy Men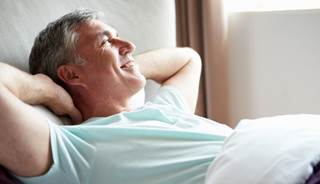 A week of bed rest lowered muscle mass and whole-body insulin sensitivity.
(HealthDay News) — One week of bed rest is associated with a substantial reduction in skeletal muscle mass and decreased whole-body insulin sensitivity, according to a study published in Diabetes.
Marlou L. Dirks, from Maastricht University Medical Center in the Netherlands, and colleagues examined mechanisms underlying disuse-induced insulin resistance in a study involving 10 healthy young males who were subjected to 1 week of bed rest. Lean body mass and quadriceps cross-sectional area (CSA) were assessed before and after bed rest and VO2 peak and leg strength were measured. Whole-body insulin sensitivity was also measured. In addition, muscle biopsies were obtained to assess muscle lipid fraction and markers of mitochondrial and vascular content.
The researchers observed a 1.4-kg loss in lean tissue and a 3.2% decrease in quadriceps CSA after bed rest (both P<.01). There were declines of 6.4 in VO2 peak (P<.05) and 6.9% in 1-repetition maximum (P<.01). Bed rest also correlated with a 29% decline in whole-body insulin sensitivity (P<.01), which was accompanied by a decrease in muscle oxidative capacity, with no alterations in skeletal muscle lipid content or saturation level, markers of oxidative stress, or capillary density.
"One week of bed rest substantially reduces skeletal muscle mass and lowers whole-body insulin sensitivity, without affecting mechanisms implicated in high-fat diet-induced insulin resistance," the researchers wrote.
Reference