July 01, 2016
Men Who Sleep Too Much, Too Little May Have Impaired Insulin Sensitivity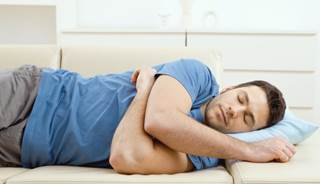 The amount of sleep a man gets can affect his risk for diabetes.
(HealthDay News) — Too much or too little sleep may raise the risk for diabetes in men, but not women, according to a study published online June 29 in the Journal of Clinical Endocrinology & Metabolism.
The study involved 788 healthy adults in 14 European countries. Compared with men who slept about 7 hours a night, the men who slept the most or the least were more likely to have impaired insulin sensitivity and beta-cell function, putting them at increased risk for diabetes.
However, the researchers found that compared with women who slept an average amount, the women who slept the most or least were more responsive to insulin and also had enhanced beta-cell function. These findings suggest sleep problems may not increase women's risk for diabetes, the scientists said.
The study is the first to show the opposite effect of sleep problems on diabetes risk in men and women, the researchers said, although they did not prove that sleep problems cause diabetes risk to rise in men.
During the last 50 years, the average amount of sleep for individuals has decreased by 1.5 to 2 hours a night, and the prevalence of diabetes has doubled.
"Even when you are healthy, sleeping too much or too little can have detrimental effects on your health," senior author Femke Rutters, PhD, of the VU Medical Center in Amsterdam, said in a journal news release. "This research shows how important sleep is to a key aspect of health — glucose metabolism."
Reference