June 27, 2015
Higher Systolic BP Linked to Lower Alzheimer's Disease Risk
the Endocrinology Advisor take:
Risk for Alzheimer's disease appears to be lower among people with a genetic predisposition to high systolic blood pressure (BP), although this decreased risk may be more attributable to treatments for hypertension than high BP itself, according to data published in PLOS Medicine.
"It's likely that this protective effect is coming from antihypertensive drugs," study co-author John Kauwe, associate professor of biology at Brigham Young University, said in a press release. "These drugs are already FDA approved. We need to take a serious look at them for Alzheimer's prevention."
For the study, the researchers evaluated genetic data from the Alzheimer's Disease Genetics Consortium and the International Genomics of Alzheimer's Project from 17,008 people with Alzheimer's disease and 37,154 without the condition. Mendelian randomization was used to determine whether risk factors for Alzheimer's, such as BMI, insulin resistance, BP, cholesterol and diabetes, had a causal impact on Alzheimer's disease.
Results revealed a link between higher systolic BP only and decreased risk for Alzheimer's disease, according to the data.
"Our results are the opposite of what people might think," study co-author Paul Crane, an asociate professor of internal medicine at the University of Washington, said in the release. "It may be that high blood pressure is protective, or it may be that something that people with high blood pressure are exposed to more often, such as antihypertensive medication, is protecting them from Alzheimer's disease."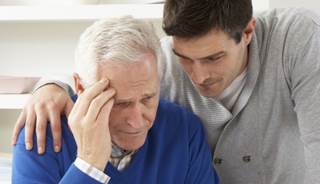 Higher Systolic BP Linked to Lower Alzheimer's Disease Risk
Background
Worldwide, about 44 million people have dementia, a group of brain degeneration disorders characterized by an irreversible decline in memory, communication, and other "cognitive" functions. Dementia mainly affects older people, and because people are living longer, experts estimate that more than 135 million people will have dementia by 2050. The most common form of dementia, which accounts for 60%–70% of cases, is Alzheimer disease (AD). The earliest sign of AD is often increasing forgetfulness. As the disease progresses, affected individuals gradually lose the ability to look after themselves, they may become anxious or aggressive, and they may have difficulty recognizing friends and relatives. People with late stage disease may lose control of their bladder and of other physical functions. At present, there is no cure for AD, although some of its symptoms can be managed with drugs. Most people with AD are initially cared for at home by relatives and other caregivers, but many affected individuals end their days in a care home or specialist nursing home.
Sign Up for Free e-Newsletters
Check out what's trending
CME Focus