September 01, 2016
VIDEO: Is Intensive Blood Pressure Control Beneficial for Older Patients?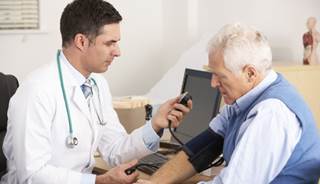 In this video, Jeff D. Williamson, MD, MHS, of the Wake Forest School of Medicine, elaborates on results from the SPRINT trial, which evaluated cardiovascular outcomes in relation to standard vs intensive blood pressure control, that were published in the Journal of The American Medical Association. Specifically, he discusses how an intensive blood pressure target of 120 mm Hg vs the standard 140 mm Hg affected patients aged older than 75.
In addition to discussing the primary outcome, defined as a composite of myocardial infarction, acute coronary syndrome, stroke, acute decompensated heart failure, and cardiovascular death, Dr Williamson highlights other interesting findings, including how somewhat frail patients fared with the more intensive blood pressure target and a comparison of how many medications were needed to achieve the more intensive target vs the standard target.
Watch the video for more.
Reference
Williamson JD, Supiano MA, Applegate WB, et al; for the SPRINT Research Group. Intensive vs standard blood pressure control and cardiovascular disease outcomes in adults aged ≥75 years: a randomized clinical trial. JAMA. 2016;315(24):2673-2682. doi:10.1001/jama.2016.7050.