January 08, 2016
Salt Intake Still Excessive in Children, Adults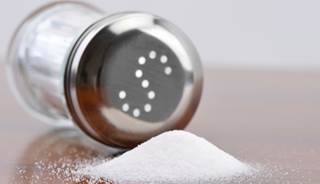 Most children and adults consume more than the recommended amount of salt.
(HealthDay News) — More than 90% of children and 89% of adults consume more sodium than is recommended in the new 2015-2020 Dietary Guidelines for Americans, according to research published in the U.S. Centers for Disease Control and Prevention's Morbidity and Mortality Weekly Report.
The latest federal dietary guidelines for Americans emphasize cutting back on salt, sugar, and saturated fats. The recommendations also advise increasing amounts of fruits, vegetables, and whole grains in the diet. The new guidelines advise no more than 2300 mg of salt a day — about a teaspoon — for most adults.
Although too much salt is a problem for all men and women and all races, the new report noted some differences in salt consumption:
More men (98%) than women (80%) consume too much salt;
More whites (90%) eat too much salt, compared with blacks (85%); and
Salt and calorie consumption peaks between ages 19 and 50.
Additionally, among those at increased risk for cardiovascular disease or stroke — people aged 51 and older, blacks, and people with high blood pressure — more than 3 out of 4 eat more than 2300 mg of salt a day; and adults with hypertension eat slightly less salt than other adults, but 86% of them still eat too much salt.
"During 2009 to 2012, most Americans, including 89% of adults and over 90% of children, consumed dietary sodium in excess of 2015-2020 Dietary Guidelines for Americans recommendations," wrote the authors of the report.
"To address the continued widespread overconsumption of sodium, a multifaceted strategy is needed, including changes in individual lifestyles and how foods are produced. Reducing sodium added to foods by food manufacturers and restaurants is a key strategy for lowering population-wide dietary sodium intake."
Reference