August 30, 2016
Low-Income Adults With CVD Lack Knowledge About Secondhand Smoke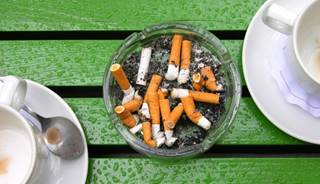 Low-income adults with heart disease appear to have gaps in knowledge related to secondhand smoke.
(HealthDay News) — Low-income adults with cardiovascular disease (CVD) have considerable gaps in knowledge relating to secondhand smoke, according to a study published in the Centers for Disease Control and Prevention's Preventing Chronic Disease.
Cati G. Brown-Johnson, PhD, from Stanford University in California, and colleagues examined the understandings of the harms of secondhand smoke exposure among low-income hospitalized adults with CVD. Semistructured interviews were administered to 15 nonsmokers reporting daily secondhand smoke exposure and 15 light or nondaily cigarette smokers.
The researchers found that none of the participants spontaneously identified heart risks related to exposure to secondhand smoke. Verbal requests to not smoke and physically avoiding smoke were reported as strategies to avoid secondhand smoke; politeness was prioritized over urgency for both smokers and nonsmokers.
Most of the participants reported that a blood test to quantify exposure to secondhand smoke would be useful. They also supported health education, assertiveness communication training, and protective policies.
"The study findings indicate secondhand smoke knowledge gaps in a low-income sample of CVD patients," the researchers wrote. "Although most participants in our study identified secondhand smoke exposure as a nuisance and harmful to health, not 1 participant spontaneously listed heart disease as a secondhand smoke risk."
Reference
Brown-Johnson CG, Oppezzo M, Benowitz ML, Prochaska JJ. "You have the right to protect your health": Perceptions of secondhand smoke and exposure mitigation strategies in low-income patients with heart disease, San Francisco, 2011–2012. Prev Chronic Dis. 2016;13:150593. doi: http://dx.doi.org/10.5888/pcd13.150593.