January 29, 2015
Following Hypertension Guidelines Can Cut Costs, CV Events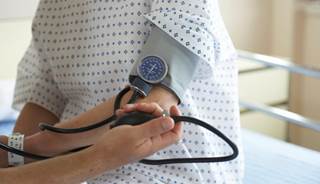 Following Hypertension Guidelines Can Cut Costs, CV Events
(HealthDay News) — If all Americans had their hypertension under control, 56,000 fewer cardiovascular (CV) events would occur each year. And 13,000 fewer people would die — without increasing health costs, according to research published in the New England Journal of Medicine.
Kirsten Bibbins-Domingo, MD, PhD, professor of medicine at the University of California in San Francisco, and colleagues developed a computer simulation to project the effect of guideline adherence on adults aged 35 to 74 years. The resarchers specifically looked at treatment costs and lives saved.
Full implementation of the new hypertension guidelines would reduce deaths and treatment costs for men and women ages 45 to 74 years with CVD, the researchers found. It would also prevent those with moderate hypertension from developing CVD, Dr. Bibbins-Domingo told HealthDay.
The results of the study suggest it's not cost-effective to treat women aged 35 to 44 years who don't have CVD for moderate hypertension. The researchers did not look at the cost-effectiveness of treating hypertension in patients aged older than 74 years, which is the focus of another study.
"If we would get blood pressure under control, we would not only improve health, but we would also save money," Dr. Bibbins-Domingo said. "An investment in strategies to lower blood pressure will yield large health benefits as well as economic benefits."
Such measures could include more medical appointments for people with elevated blood pressure (BP), home BP monitoring and measures to improve medication compliance, Dr. Bibbins-Domingo suggested.
Reference