August 24, 2016
Specificity of Statin Therapy Improved With Disease-Guided Approach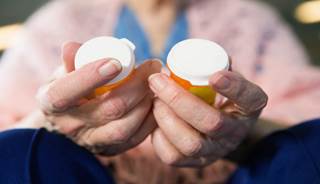 Statin treatment specificity may be improved with the use of a disease-guided approach.
(HealthDay News) — A disease-guided approach to statin eligibility can improve treatment specificity, according to a study published in the Journal of the American College of Cardiology.
Martin Bødtker Mortensen, MD, PhD, from Aarhus University Hospital in Denmark, and colleagues personalized American College of Cardiology (ACC)/American Heart Association (AHA) risk-based statin eligibility criteria. Among 5805 BioImage participants, down-classification from statin eligible to ineligible occurred for those with ≥7.5% 10-year atherosclerotic cardiovascular disease risk if imaging revealed no coronary artery calcium (CAC) or carotid plaque burden (cPB).
The researchers found that 86% of participants qualified for ACC/AHA risk-based statin therapy, with 96% sensitivity and 15% specificity. CAC and cPB scores of 0 were seen in 32% and 23%, respectively, and correlated with low event rates. Specificity for coronary heart disease events improved 22% with CAC-guided reclassification (P<.0001), with no significant loss in sensitivity, for a binary net reclassification index (NRI) of 0.20 (P<.0001). Specificity improved 16% with cPB-guided reclassification (P<.0001), with minor loss of sensitivity (7%), for a NRI of 0.09 (P=.001). For cardiovascular disease events the NRI was 0.14 and 0.06 for CAC-guided and cPB-guided, respectively.
"Withholding statins in individuals without CAC or carotid plaque could spare a significant proportion of elderly people from taking a pill that would benefit only a few," the researchers wrote.
Disclosures: Several authors disclosed financial ties to the pharmaceutical industry; the BioImage Study was designed by the High-Risk Plaque Initiative, which was funded by pharmaceutical companies.
Reference