August 05, 2015
Short-Term Dietary Changes Didn't Improve Cardiac Fat Metabolism
Restriction of calories and saturated fat did not correct myocardial dietary fatty acid metabolism in individuals with impaired glucose tolerance.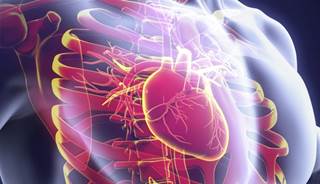 Cutting calories and saturated fat didn't improve cardiac fat metabolism.
(HealthDay News) — Seven-day caloric and saturated fat restriction was found to increase myocardial dietary fatty acid (DFA) partitioning in individuals with impaired glucose tolerance (IGT), according to research published in Diabetes.
Christophe Noll, PhD, of the Université de Sherbrooke in Canada, and colleagues compared the effects of a 7-day hypocaloric (−500 kcal/d), low saturated fat (<7% of energy) diet (LOWCAL) with an isocaloric, usual saturated fat (approximately 10% of energy) diet (ISOCAL) on DFA metabolism in a randomized, crossover study in 15 individuals with IGT.
Organ-specific DFA partitioning and cardiac and hepatic DFA fractional uptake rates were measured using oral 18-fluoro-6-thiaheptadecanoic acid positron emission tomography.
The LOWCAL diet led to reductions in weight and postprandial insulin area under the curve, the researchers found.
After LOWCAL, myocardial DFA partitioning over 6 hours was increased (2.3 vs. 1.9 standard uptake value; P<.04). Myocardial DFA fractional uptake at 90 to 120 minutes was unchanged (0.055 vs. 0.046 min−1; P=.7).
Hepatic DFA partitioning was unchanged, but hepatic DFA fractional uptake tended to increase.
"Very short-term caloric and saturated fat dietary restriction does not lead to the same changes in organ-specific DFA metabolism than those associated with weight loss in IGT," the researchers wrote.
One study author holds a position funded by a donation from GlaxoSmithKline to the Université de Sherbrooke.
Reference