July 28, 2015
Adding Ezetimibe to Atorvastatin May Improve CV Outcomes After PCI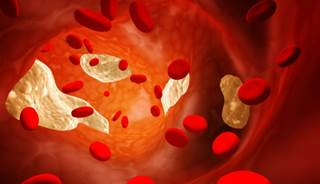 Adding Ezetimibe to Atorvastatin May Improve CV Outcomes After PCI
(HealthDay News) — For Japanese patients who have undergone percutaneous coronary intervention (PCI), atorvastatin plus ezetimibe is associated with improved outcomes compared with atorvastatin alone, according to a study published in the Journal of the American College of Cardiology.
Kenichi Tsujita, PhD, from Kumamoto University in Japan, and colleagues examined the effects of ezetimibe plus atorvastatin vs. atorvastatin monotherapy on lipid profiles and coronary atherosclerosis in a randomized trial involving Japanese patients who underwent PCI.
Compared with atorvastatin monotherapy, the combination of atorvastatin/ezetimibe resulted in lower levels of LDL cholesterol (63.2 mg/dL vs. 73.3 mg/dL; P<.001), the researchers found.
The mean between-group difference in the absolute change in percent atheroma volume (PAV: −1.538%) did not exceed the predefined noninferiority margin of 3%, but showed superiority for the dual lipid-lowering strategy (−1.4% vs. −0.3%; P=001).
For PAV, coronary plaque regression was seen in a significantly greater percentage of patients who received atorvastatin/ezetimibe (78% vs. 58%; P=.004).
Acceptable side effect profiles were seen for both strategies, with a low incidence of laboratory abnormalities and cardiovascular events.
"Compared with standard statin monotherapy, the combination of statin plus ezetimibe showed greater coronary plaque regression, which might be attributed to cholesterol absorption inhibition-induced aggressive lipid lowering," the researchers wrote.
Two authors disclosed financial ties to the pharmaceutical industry.
Reference