April 30, 2018
Metabolic Syndrome and Skin Disorders: Association Is More Than Skin Deep
This article originally appeared
here.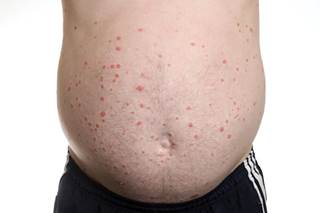 Dermatologists may be among the first clinicians to identify the precursors of type 2 diabetes and cardiovascular disease in patients who have comorbid skin disorders.
Emerging evidence shows an association between metabolic syndrome and inflammatory skin disorders.1 Such findings are critical to dermatology, as dermatologists may be among the first clinicians to identify the precursors to type 2 diabetes (T2D) and cardiovascular disease in patients who have comorbid skin disorders.1
The current global definition of metabolic syndrome includes at least three of the following five characteristics: increased waist circumference, hypertension, hypertriglyceridemia, reduced high-density lipoprotein (HDL), and elevated fasting glucose/T2D.1
This metabolic dysregulation triggers cutaneous disorders, as is the case with insulin imbalance, which affects organ systems beyond the skin. Autoimmune and inflammatory skin disorders share many of the same triggers such as TNF-alpha, interleukin (IL)-17, IL-23, and oxidative stress.1
Skin Diseases Tied to Metabolic Syndrome
Due to its multisystemic nature, psoriasis has a strong association with metabolic syndrome. Psoriasis and atherosclerosis share some biomarkers, including cytokines IL-2, IL-12, and TNF-alpha.1
In a chart comparison study, Sommer and colleagues found that patients with moderate to severe psoriasis (N=581) were more likely to have metabolic syndrome and related comorbidities than patients in the control group: diabetes (P <.0001), hyperlipidemia (P <.01), coronary heart disease (P <.01), and arterial hypertension (P <.0001).2
Langan and colleagues found that psoriasis and metabolic syndrome had a dose-response relationship: the more severe the psoriasis, the more likely patients were to have metabolic syndrome. The study of 44,715 patients (4065 with psoriasis and 40,650 controls) showed an adjusted odds ratio (OR) of 1.22 (95% CI, 1.11-1.35) in patients with mild psoriasis vs 1.98 (95% CI, 1.62-2.43) in patients with severe psoriasis.3 Researchers found that the individual metabolic syndrome components had an independent association with psoriasis.3
Chronic inflammation, risk factors such as genetics, smoking, and alcohol consumption, and lipid-altering medications are common in both metabolic syndrome and skin disorders.4 The same inflammatory mediators thought to trigger insulin resistance — TNF-alpha, IL-6, leptin, and adiponectin — are also imbalanced in skin disorders.4 These shared traits led Ünlü and Türsen to find connections between the prevalence of metabolic syndrome and the following skin disorders:
Vasculitis (43%)
Chronic urticaria (30%)
Lichen planus (26.6%)
Lupus erythematosus (18% to 30%)
Autoimmune bullous diseases
Vitiligo
Sjögren syndrome
Behçet's syndrome
"We also examined patients [with skin disorders] according to metabolic syndrome criteria including body mass index, total biochemistry analysis, and blood pressure," co-investigator and dermatologist Ümit Türsen, MD, from Mersin University School of Medicine in Turkey, told Dermatology Advisor. "All autoimmune skin diseases are related to metabolic syndrome because of immunosuppressive drugs like steroids."
Researchers are also examining skin disorders of the sebaceous and apocrine glands, as different mechanisms trigger acne in men (eg, excess testosterone) and women (eg, polycystic ovary syndrome).1 In hidradenitis suppurativa, for example, an excess of androgens may cause comorbid metabolic syndrome. Early-onset androgenetic alopecia may also be a harbinger of insulin resistance.5 In men, androgenetic alopecia and metabolic syndrome share a connection, and in women the severity of androgenetic alopecia correlates with greater hypertension and obesity.6,7
An association between other skin disorders such as rosacea and cardiovascular (CV) risk has been harder to establish.8
During a 5-year period, researchers compared 4948 patients with rosacea with 23,823 controls.8 The adjusted incidence ratios for myocardial infarction were 0.75 (95% CI, 0.57-1.00), 1.08 (95% CI, 0.86-1.35) for ischemic stroke, 1.01 (95% CI, 0.61-1.67) for hemorrhagic stroke, 0.99 (95% CI, 0.80-1.24) for CV death, 0.99 (95% CI, 0.86-1.15) for major adverse CV events, and 0.95 (95% CI, 0.85-1.06) for all-cause mortality.8
"The findings support that the focus should be on the traditional risk factors such as smoking, diet, and exercise," lead investigator Alexander Egeberg, MD, PhD, from the department of dermatology and allergy at Gentofte Hospital in Hellerup, Denmark, told Dermatology Advisor. "We are currently examining the effects of treating psoriasis and whether these treatments may reduce the risk of cardiovascular disease."
Researchers have received early signals that cutaneous tumors may portend occurrence of metabolic syndrome or its components.1 In one study, malignant melanoma was shown to have an association with increased blood pressure in both men and women; men with malignant melanoma had a higher body mass index (BMI) than healthy controls, and women with nonmelanoma skin cancer had higher glycemic levels than their healthy counterparts.9 Researchers also found similar pathophysiology, including oxidative stress and inflammatory markers, in aging skin and metabolic syndrome.10
How to Screen for Metabolic Syndrome in Skin Disorders
Knowing that certain characteristics increase the risk in dermatology patients who may have metabolic syndrome will enable clinicians to identify patients who may have specific CV risks. For example, clinicians should refer patients with severe psoriasis and concomitant nail pitting to an endocrinologist if they meet the criteria for metabolic syndrome.1 Other skin conditions are sex-specific. In women with atopic dermatitis, an ultrasound may detect early visceral fat accumulation in the abdomen.1 Clinicians should also screen men with malignant melanoma for hypertension.
References