June 16, 2016
Bone Health Adversely Affected by HIV Infection With T-Cell Activation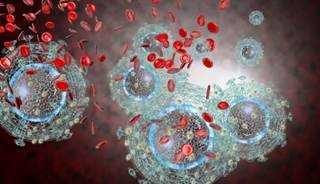 Bone density is lower with HIV infection with T-cell activation.
(HealthDay News) — HIV infection with T-cell activation is associated with lower bone mineral density (BMD) and stiffness, according to a study published in the Journal of Bone and Mineral Research.
John S. Manavalan, MD, from the Columbia University Medical Center in New York City, and colleagues used dual X-ray absorptiometry (DXA) and high-resolution peripheral quantitative computed tomography (HRpQCT) to characterize BMD and microarchitecture in 38 men with HIV on antiretroviral therapy (18 perinatally-infected and 20 adolescence-infected) and 20 men without HIV aged 20 to 25 years.
The researchers found that, compared with uninfected men, men with HIV had lower DXA derived areal BMD Z-scores and HRpQCT derived volumetric BMD measures. Men with HIV also had higher proportions of activated and senescent CD4+ and CD8+ T cells compared with uninfected men.
Men with HIV had a lower percentage of circulating osteogenic precursor (COP) cells than uninfected men (0.19 ± 0.02% vs 0.43 ± 0.06%; P<.001); the proportion was also lower in perinatally- vs adolescence-infected men (0.15 ± 0.02% vs 0.22 ± 0.03%; P<.04). Higher bone stiffness was seen with a higher proportion of COP cells, while a higher proportion of activated CD4+ T cells was associated with decreased BMD and stiffness and a lower proportion of COP cells.
"T-cell activation with HIV-infection was associated with decreased numbers of osteogenic precursors as well as lower peak bone mass and bone strength," the researchers wrote.
Disclosures: One author disclosed financial ties to Gilead and AbbVie.
Reference