December 19, 2014
Denosumab Increased Treatment Satisfaction in Postmenopausal Women
the Endocrinology Advisor take:
Postmenopausal women who were taking daily or weekly oral bisphosphonates for osteoporosis reported greater treatment satisfaction after switching to denosumab as opposed to a monthly oral bisphosphonate, according to a study published in the Journal of Clinical Endocrinology & Metabolism.
The women who switched to monthly oral bisphosphonates also showed improvements in treatment satisfaction, but those improvements were greater in those who switched to denosumab, reported Santiago Palacios, MD, PhD, of the Instituto Palacios in Madrid, and colleagues.
Bisphosponates are a common treatment for postmenopausal osteoporosis, but difficult dosing regimens and adverse effects can negatively impact treatment adherence. Researchers sought to find out if alternative treatments could improve treatment satisfaction.
The study included 1,703 postmenopausal women aged at least 55 years with low bone mineral density who had low adherence to oral bisphosphonate therapy. Each participant was randomly assiged to 60 mg of subcutaneous denosumab every 6 months or 150 mg of oral bisphosphonates (ibandronate or risedronate) once a month for 12 months.
The researchers measured treatment satisfaction at baseline, 6 months and 12 months using the Treatment Satisfaction Questionnaire for Medication (TQSM), which measures effectiveness, side effects, convenienceand global satisfaction.
At 6 and 12 months, participants in both treatment groups reported improvements in all four TQSM measurements. Compared with the oral bisphosphonate group, participants in the denosumab group reported significantly increased improvements in all four TQSM domains at both 6 and 12 months.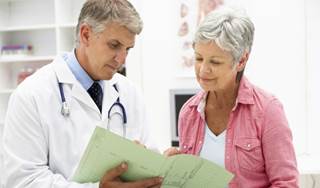 Denosumab Increased Treatment Satisfaction in Postmenopausal Women
Context: For many patients, adhering to postmenopausal osteoporosis treatment is a challenge. Higher treatment satisfaction is associated with greater persistence with these therapies, which is associated with better outcomes.
Objective: To evaluate the change in treatment satisfaction in postmenopausal women who were suboptimally adherent to daily or
Conclusions: Women with low adherence to oral bisphosphonates reported greater treatment satisfaction when transitioned to denosumab versus switching to a monthly oral bisphosphonate.
Sign Up for Free e-Newsletters
Check out what's trending
CME Focus