August 19, 2016
Fracture Risk Lower With Abaloparatide in Osteoporosis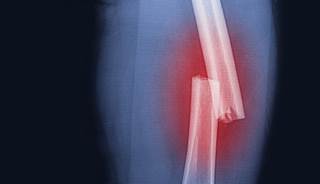 Risk for fractures appeared to be lower in women with osteoporosis.
(HealthDay News) — In postmenopausal women with osteoporosis, an experimental drug appears to reduce the risk of bone fractures better than teriparatide or a placebo, according to a study published in the Journal of the American Medical Association.
Paul D. Miller, MD, of the Colorado Center for Bone Research in Lakewood, and colleagues randomly assigned 2463 postmenopausal women with osteoporosis to receive daily injections of abaloparatide, teriparatide, or a placebo for 18 months. Their average age was 69.
The researchers found that among the 1901 women who completed the trial, increases in bone mineral density (BMD) were greater with abaloparatide than placebo. Fewer women on the injectable drug abaloparatide had vertebral fractures (0.58%) than women receiving a placebo (4.22%), and slightly fewer than those taking teriparatide (0.84%).
Women taking abaloparatide also had fewer other types of fractures (2.7%) than those who got a placebo (4.7%), and slightly fewer than those on teriparatide (3.3%). Fewer cases of hypercalcemia occurred among women taking abaloparatide (3.4%) than teriparatide (6.4%).
"The way forward for fracture prevention involves not only the development of better therapies to prevent fracture and easier delivery systems, but also improved adoption of existing osteoporosis therapies for patients with prior fractures and minimization of adverse effects, particularly those associated with long-term use," wrote the authors of an accompanying editorial.
Disclosures: The study was funded Radius Health, the manufacturer of abaloparatide.
Reference
Miller PD, Hattersley G, Riis BJ, et al; for the ACTIVE Study Investigators. Fractures in Postmenopausal Women With Osteoporosis: A Randomized Clinical Trial. JAMA. 2016;316(7):722-733. doi:10.1001/jama.2016.11136.