September 15, 2016
ASBMR 2016 Set to Explore Latest Advances in Bone and Mineral Metabolism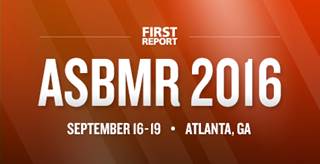 ASBMR 2016
This year for the American Society for Bone and Mineral Research (ASBMR) Annual Meeting, bone health experts and leading investigators from around the world will convene in Atlanta, Georgia, to showcase cutting-edge research and developments in the field of bone, mineral, and musculoskeletal science.
The meeting, taking place from September 16 to 19 at the Georgia World Congress Center, will bring together more than 3500 researchers and clinicians from close to 70 countries.
"This is an exciting time for clinicians and researchers in bone health and the ASBMR 2016 Annual Meeting reflects this," Douglas P. Kiel, MD, MPH, president of ASBMR, told Endocrinology Advisor.
According to Dr Kiel, the meeting begins with a symposium on the genomics of bone and mineral disease with an eye toward translating discovery into clinical applications.
"This topic is of great importance to the field because of the existing 'treatment gap' that threatens the health and well being of those suffering with fractures from osteoporosis," he said. "The ASBMR is taking the lead in a "Call to Action" to close this treatment gap with several panel discussions and a press conference on Monday [September 19]. Undertreatment of the disease has been growing due to a host of factors, one of which is the fear of the rare side effects of existing therapies. The pipeline of new drug treatments is drying up. Using genomic discovery to identify new targets for therapy is one of the paths for development of new medications for the disease."
Another exciting area of focus for ASBMR 2016, Dr Kiel said, is rare bone diseases, such as hypophosphatasia and X-linked hypophosphatemic rickets, for which new drugs have been developed to relieve the suffering of individuals with these diseases. "Clinical trial data will be presented on these new agents," he said.
Also on tap for the conference will be the Gerald D. Aurbach Lecture on personalized medicine by Michael Snyder, PhD, of Stanford University, Stanford, California; the Louis V. Avioli Lecture on Sex Steroids and Bone by Sundeep Khosla, MD, of the Mayo Clinic, Rochester, Minnesota; and the Basic Science Evening on brain signaling to bone.
Other sessions of note include the plenary symposia on gut microbiome and bone homeostasis, new mechanisms on cancer and bone, and the determinants of skeletal aging, along with Meet-the-Professor, hands-on workshops, and reports from the ASBMR Task Force.
For the complete ASBMR 2016 program, visit www.asbmr.org/official-program.
And for the latest news from ASBMR 2016, stay tuned to Endocrinology Advisor throughout the meeting.