September 18, 2016
Yogurt Consumption in Postmenopausal Women May Benefit Bone Health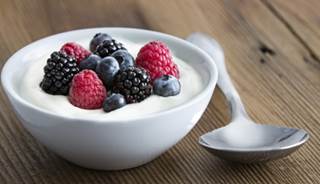 Eating yogurt may improve bone health.
A new study has found that postmenopausal women who consume yogurt experience attenuation in radius cortical bone loss, leading researchers to conclude that yogurt may be more than just a healthy lifestyle marker.
The findings were presented at the American Society for Bone and Mineral Research (ASBMR) 2016 Annual Meeting.
According to Emmanuel Biver, MD, PhD, of the University Hospitals of Geneva, Switzerland, and fellow researchers, yogurt provides calcium and proteins together with probiotics with possible effects on gut microbiota, all being potentially beneficial for bone.
"We investigated the influence of yogurt consumption on bone mineral density (BMD) and microstructure changes in a cohort of healthy postmenopausal women," they wrote in the abstract.
For the study, Dr Biver and colleagues used a food questionnaire to evaluate yogurt consumption — defined as never, <1 or ≥1 serving/day (125-180 g/day) — and total calcium and protein intakes at baseline. The final analysis included 733 postmenopausal women (mean age, 65 years) who were enrolled in the Geneva Retirees Cohort and followed for approximately 3 years.
Researchers observed that yogurt consumption was linked with lower BMI, increased physical activity and calcium and protein intakes, and comparable total energy intakes. There were no reported differences between groups in alcohol or tobacco consumption and menopausal hormone therapy use.
Baseline data demonstrated that compared with women who never consumed yogurt (8.6%), those who did (<1 serving/day, 73.8%; ≥1 serving/day, 17.6%) had higher lumbar spine BMD (+4.4%; P=.007), distal 1/3 radius BMD (+3.4%; P=.021), and tibia cortical area (+5.3%, P=.041), relationships that persisted even after adjustment for BMI, physical activity, and total calcium and protein intakes.
Furthermore, whole body fat mass was reduced with yogurt consumption (–6.4%, P=.019), independent of total energy intake and physical activity, and a trend of a reduced incidence of low-trauma fractures was reported as well (19% vs 29%; P=.058).
Researchers also performed a longitudinal analysis and found that yogurt consumption diminished losses of total hip BMD (P=.017), radius cortical area (P=.004) and thickness (P=.007), even after adjustment.
No differences at spinal, tibial, and trabecular compartments were observed.
These findings, Dr Biver and fellow researchers wrote, suggest "that yogurt may be more than just a marker of healthy lifestyle. Whether influence on the gut microbiota may contribute to this specific protective effect of fermented dairy product remains to be investigated."
Disclosures: Dr Biver reports being awarded the Yogurt in Nutrition Initiative research award, which was supported by the Danone Institute International in collaboration with the American Society for Nutrition and the International Osteoporosis Foundation #100.
For more coverage of ASBMR 2016, click here.
Reference
Biver E, Durosier-Izart C, Merminod F, Chevalley T, Ferrari S, Rizzoli R. Abstract 1112. Yogurt consumption is associated with attenuated cortical bone loss independently of total calcium and protein intakes and physical activity in postmenopausal women. Presented at: ASBMR 2016 Annual Meeting; September 16-19, 2016; Atlanta, Georgia.