September 17, 2016
Early Research Suggests Bone Acquisition May Be Better in Infants Fed Soy Formula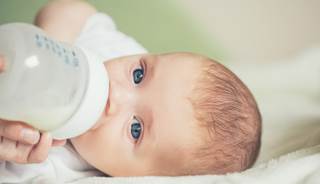 Soy formula may be beneficial for infant bone health.
Compared with infants fed standard breast milk, those fed soy infant formula demonstrated greater bone acquisition during the first year of life, according to preliminary data in humans.
"Study results were very surprising to us compared with our expectations at the beginning of the study, as bone mineral density and bone mineral content were all significantly higher in children fed soy formula during their first year of life compared to those given breast milk, especially in girls," Jin-Ran Chen, MD, PhD, study investigator from Arkansas Children's Nutrition Center, Little Rock, Arkansas, said in an interview
The results were presented at the American Society for Bone and Mineral Research (ASBMR) 2016 Annual Meeting.
Dr Chen explained that in contrast to American adults, who consume less soy food than many countries in Asia, a substantial number of newborns in the United States — more than 25 million — have been fed soy food via soy infant formula.
"Yet, there has not been a study investigating the effects of soy formula on full-term infant bone metabolism and structural and functional bone indices in children who were fed soy formula during infancy," he said. "Moreover, we have previously reported the beneficial effects of a soy protein isolate (SPI) diet — the sole protein source of soy infant formula — on promoting bone formation in several prepubertal rodent models, such as piglets; whether these effects persist later in adult life remain unclear."
To further clarify this clinical question, Dr Chen and colleagues designed studies in both humans and rodents to examine whether there are early and persisting effects of soy infant formula on bone formation.
In the animal studies, 24 weanling female rats were fed an SPI diet for 30 days, and then the diet was switched to a control casein diet until 6 months of age. Researchers observed that a diet of short-term, early-life SPI had modest but persistent effects on bone formation.
"The beneficial effect of SPI diet on bone may be life time-specific (ie, SPI diet increases bone formation in rapidly growing rodents)," Dr Chen said.
In the human studies, Dr Chen and colleagues examined bone turnover markers in urine in 180 healthy 6-month-old infants who were fed breast milk (n=60), cow's milk formula (; n=60), or soy formula (n=60).
Data demonstrated no significant differences in bone formation and resorption markers between cow's milk formula and soy formula groups, but osteocalcin was substantially increased in the milk formula and soy formula groups compared with breast milk infants (P<.01). Moreover, the bone resorption marker, collagen crosslink N-terminal telopeptide, was also increased in both formula infants vs breast milk infants (P<.05), albeit to a lesser degree.
In further analysis, children who were originally evaluated at age 6 months were recruited again at 5 years to determine their bone strength and quality. Researchers found that bone quality, particularly bone strength as determined by the stress-strain index, was significantly higher in children who received soy formula compared with those who received breast milk during infancy.
"During the first year of life, bone acquisition in infants fed soy formula is greater than those fed standard breast milk," Dr Chen concluded, adding that increased bone turnover favoring more bone formation is programmed by soy formula during early life.
Disclosures: Dr Chen reports no relevant financial disclosures.
For more coverage of ASBMR 2016, click here.
Reference
Chen J, Lazarenko OP, Blackburn ML, Andres A, Badger TM. Abstract 1070. Dietary factors during early life program bone formation. Presented at: ASBMR 2016 Annual Meeting; September 16-19, 2016; Atlanta, Georgia.