September 19, 2016
FRAME: Romosozumab Decreases Vertebral Fracture Risk in Osteoporosis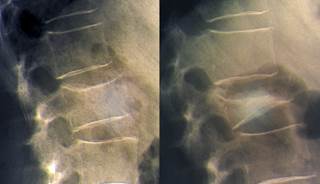 Romosozumab decreased risk for vertebral fractures in women with osteoporosis.
Results from a phase 3 trial have concluded that compared with placebo, romosozumab (Amgen/UCB Pharma), a monoclonal antibody to sclerostin, reduced the risk for vertebral fracture at 12 months in postmenopausal women with osteoporosis. This lower risk remained at 24 months, after both the romosozumab and placebo arms had been transitioned to denosumab.1,2
Felicia Cosman, MD, of the Helen Hayes Hospital, West Haverstraw, New York, and fellow researchers presented the findings of the FRAME trial (Registrational Study With AMG 785 to Treat Postmenopausal Osteoporosis; ClinicalTrials.gov identifier: NCT01575834) at the American Society for Bone and Mineral Research (ASBMR) 2016 Annual Meeting. The results were also published simultaneously in The New England Journal of Medicine.
The phase 3, randomized, placebo-controlled trial included 7180 postmenopausal women with a T score of –2.5 to –3.5 at the total hip or femoral neck. Researchers randomly assigned patients to receive subcutaneous injections of romosozumab (210 mg; n=3589) or placebo (n=3591) every month for 12 months, and thereafter, each group received 60 mg denosumab for 12 months administered subcutaneously every 6 months.
Cumulative incidences of new vertebral fractures at 12 months and 24 months served as the coprimary end points, and nonvertebral and clinical — a composite of nonvertebral and symptomatic vertebral — fractures served as secondary end points.
Twelve-month data indicated that the romosozumab arm experienced lower rates of new vertebral fractures (0.5% vs 1.8%; P<.001) and clinical fractures (1.6% vs 2.5%; P=.008) when compared with placebo.1,2
"The effect of romosozumab on the risk of vertebral fracture was rapid, with only 2 additional vertebral fractures (of a total of 16 such fractures in the romosozumab group) occurring in the second 6 months of therapy," Dr Cosman and researchers wrote in the study.
In addition, the rate of nonvertebral fractures was not significantly different between groups (romosozumab, 1.6% vs placebo, 2.1%; P=.10).1,2
At 24 months, after each group made the transition to denosumab, vertebral fractures were reduced in the romosozumab arm (0.6% vs 2.5%; P<.001).1,2
"Substantial gains in bone mineral density at the spine and hip with romosozumab provided a foundation for an ongoing reduction in the risk of fracture during sequential treatment with denosumab," the researchers wrote.
Comparable rates of adverse events, including incidences of hyperostosis, cardiovascular events, osteoarthritis, and cancer, were reported between groups.
In an accompanying editorial, Clifford J. Rosen, MD, of the Maine Medical Center Research Institute in Scarborough, and Julie R. Ingelfinger, MD, of the Massachusetts General Hospital in Boston, wrote that the long-term treatment of osteoporosis remains challenging, and romosozumab may be one answer.3
"More trials are needed before we can embrace a new approach," Drs Rosen and Ingelfinger wrote. "What is apparent is that the relatively rapid progress from the discovery of sclerostin (in 1999) to the completion of a phase 3 trial (in 2016) with a sclerostin antibody offers hope that new biologic agents for this chronic disease may be in the offing."
Disclosures: Dr Cosman reports receiving grant support, personal fees, and non-financial support from Amgen; personal fees from Radius, Merck, Sermonix, and Tarsa; and personal fees and non-financial support from Eli Lilly. Drs Rosen and Ingelfinger report no relevant financial disclosures. The trial was funded by Amgen and UCB Pharma.
For more coverage of ASBMR 2016, click here.
References
Cosman F, Crittenden DB, Adachi JD, et al. Romosozumab treatment in postmenopausal women with osteoporosis. N Engl J Med. 2016. doi:10.1056/nejmoa1607948.
Cosman F, Crittenden DB, Adachi JD, et al. Abstract 1096. Fracture risk reduction with romosozumab: Results of the phase 3 FRAME study. Presented at: ASBMR 2016 Annual Meeting; September 16-19, 2016; Atlanta, Georgia.