September 16, 2016
Genetic Profiling Improved Accuracy of Fracture Prediction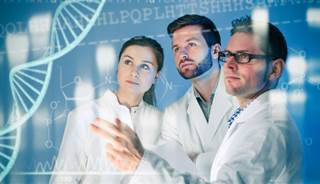 Genetic profiling improved prediction of fractures.
New research demonstrated that genetic profiling of bone mineral density (BMD) genetic variants enhanced the accuracy of fracture prediction beyond that of clinical risk factors alone.
"We created a personalized genetic profiling and found that people with a higher genetic risk score (GRS) had greater risk of fracture," Tuan Nguyen, PhD, of the Garvan Institute of Medical Research and the University of Technology Sydney, Australia, told Endocrinology Advisor. "More importantly, we found that genetic profiling contributes to a more accurate fracture prediction over and above that of traditional clinical risk factors."
The study was presented at the American Society for Bone and Mineral Research (ASBMR) 2016 Annual Meeting.
For the study, Dr Nguyen and colleagues aimed to determine the predictive value of genetic profiling in fracture prediction.
"We have known for some time that fracture is partly determined by genetic factors and that the strongest predictor of fracture risk — BMD — is a highly heritable trait," Dr Nguyen said. "Over the past 10 years or so, we have identified more than 70 genetic variants that are associated with fracture or BMD. However, the magnitude of association between each of those variants and bone density is very modest, leading to the suggestion that genetics is not useful for predicting complex diseases. In this study, we asked whether a genetic signature based on the discovered variants could help better predict fracture risk for an individual."
In all, researchers genotyped 71 BMD-associated genetic variants in 556 participants from the Dubbo Osteoporosis Epidemiology Study. They created a GRS, determined the rate of fragility fracture via X-ray reports from 1990 to 2009, and measured femoral neck BMD with dual energy X-ray absorptiometry.
According to results, participants with a fracture had a higher GRS than those without a fracture (P<.001), with the odds of fracture increasing by 47% for each score increase in GRS.
After adjustment for age, gender, prior fracture, fall, and femoral neck BMD, GRS remained significantly associated with fracture risk (odds ratio [OR], 1.44; 95% CI, 1.24-1.67).
Similarly, researchers reported that for hip fracture, a rise in GRS yielded an increased risk for fracture (OR, 1.66; 95% CI, 1.38-2).
In further analysis, the area under the curve (AUC) for the model with clinical risk factors was 0.71 (95% CI, 0.67-0.75). With the addition of GRS to the model, the AUC increased to 0.74 (95% CI, 0.70-0.78) and the integrated reclassification index (NRI) improved by 23% at cut-off value.
Likewise, the addition of GRS into the clinical risk factors-based model for hip fracture improved AUC from 0.80 (95% CI, 0.74-0.86) to 0.87 (95% CI, 0.82-0.91), and led to an NRI gain of 19% in correct reclassification of fracture vs non-fracture.
"A personalized genetic profiling of bone density-related genes can improve the accuracy of fracture risk assessment," Dr Nguyen concluded.
He added that fracture is a serious skeletal disorder because it is associated with increased risk for death, more so in men than women, and that the assessment of fracture risk should be based on an individual's genetic and clinical risk profile.
"I am hoping to incorporate genetic profiling into the existing Garvan Fracture Risk Calculator for personalized fracture risk assessment," Dr Nguyen said.
Disclosures: Dr Nguyen reports no relevant financial disclosures.
For more coverage of ASBMR 2016, click here.
Reference
Ho-Le TP, Center JR, Eisman JA, Nguyen HT, Nguyen TV. Abstract 1032. Prediction of fragility fracture risk by genetic profiling. Presented at: ASBMR 2016 Annual Meeting; September 16-19, 2016; Atlanta, Georgia.