September 16, 2016
Alendronate Reduced Hip Fracture Risk in Elderly Patients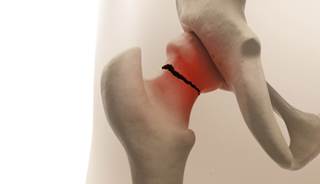 Alendronate reduced risk for hip fracture in elderly patients.
In a cohort of elderly individuals, alendronate significantly lowered the risk for hip fracture, leading to improvements that were noticeably better in the oldest groups than those observed in the younger groups.
"Our results indicate a highly favorable benefit-risk ratio with treatment in the oldest old," study investigators Mattias Lorentzon, MD, PhD, and Kristian Axelsson, MD, both from the University of Gothenburg, Gothenburg, Sweden, wrote in an email interview with Endocrinology Advisor. "We were surprised to see greater relative risk reductions with treatment for higher ages."
The study was presented at the American Society for Bone and Mineral Research (ASBMR) 2016 Annual Meeting.
"Critics have claimed that alendronate should not be used in the oldest old due to lacking supporting evidence," Drs Lorentzon and Axelsson wrote. "This has probably reduced treatment rates in the oldest old following fragility fracture."
To address this concern, researchers investigated more than 100 000 older patients (mean age, 83 years) who had a prior fracture and underwent a fall risk assessment at a health care facility in Sweden from 2008 to 2014. They culled data involving prevalent and incident medication, diseases, fractures, and deaths using national registers.
Occurrence of both a hip fracture diagnosis and a code for surgical procedure served as the hip fracture outcome, and follow-up time was adjusted for death, emigration, or end of study period.
In an analysis of age quartiles, alendronate decreased hip fracture risk across all groups. However, when the researchers examined the estimated absolute risk reduction at 3 years, they found that the number substantially increased by quartile of age.
Furthermore, adverse events, including esophagitis, dyspepsia, and acid reflux, were no more common in the higher-age quartiles than the lower-age quartiles.
"We conclude that alendronate treatment was associated with reduced hip fracture risk in the oldest old, and that the number needed to treat in these groups was substantially lower than in the younger age groups," the researchers wrote in the abstract. "These results suggest that alendronate treatment in the oldest old is effective and safe, and should be prioritized in order to reduce the high fracture rates in this age group."
Disclosures: Drs Axelsson and Lorentzon report no relevant financial disclosures.
For more coverage of ASBMR 2016, click here.
Reference
Axelsson K, Lundh D, Lorentzon M. Abstract 1006. Alendronate treatment is associated with reduced fracture risk and maintained safety in the oldest old. Presented at: ASBMR 2016 Annual Meeting; September 16-19, 2016; Atlanta, Georgia.