July 25, 2016
Is There an Association Between Sex Hormones, Sleep, and Lifestyle?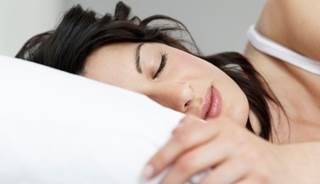 Sex hormones appeared to be linked to sleep in men and women.
A population-based study found a link to sleep apnea and daytime sleepiness with estradiol, androgens, and sex-hormone binding-globulin (SHBG) levels in a new study published in the Journal of Clinical Endocrinology & Metabolism. However, further analysis of the results point to the impact of lifestyle factors and body composition in the relationship between sleep and sex hormones.
"Individuals who live in our modern 24/7 society are constantly connected. Sleep is not prioritized so that many individuals either do not find time to sleep sufficiently or their sleep is disrupted by light, noise, and device pollution," Peter Liu, MBBS, PhD, professor of medicine at David Geffen School of Medicine at UCLA and the Los Angeles Biomedical Research Institute in California, noted in an email to Endocrinology Advisor. "Poor sleep habits, as well as medical conditions that impair sleep and breathing such as obstructive sleep apnea, are increasingly known to impair health and it may do this through impairment of hormones, including sex hormones."
Insomnia is a common disorder associated with potentially negative consequences including higher risk for cardiovascular disease (CVD), metabolic syndrome, depression, hypertension, and obesity. The roles of sexual hormones in insomnia were highlighted by research indicating sexually dimorphic sleep patterns and androgen and estrogen receptors on the areas that regulate sleep such as the hippocampus and medial preoptic nuclei.
Although studies have investigated the role of sex hormones during the menstrual cycle and obstructive sleep apnea, there have been no studies in the general population.
Hanna Kische, of the Institute of Clinical Chemistry and Laboratory Medicine at the University Medicine Greifswald in Germany, and colleagues used data from the cross-sectional Study of Health in Pomerania-TREND to assess the association between sleep and sex hormones in 213 women and 204 men. Sleep characteristics were measured with the Pittsburgh Sleep Quality Index, the Epworth Sleepiness Scale (ESS), and the Insomnia Severity Index. Sex hormone levels and polysomnography were also obtained. Data were analyzed with multivariable regression models, which included adjustment for hypertension, alcohol intake, physical inactivity, tobacco use, age, and waist circumference.
The investigators found after multivariable linear regression, androstenedione was inversely associated with ESS in men (β-coefficient, -0.71; 95% CI, -1.18 to -0.25). Dehydroepiandrosterone-sulfate was positively associated with wake after sleep onset after multivariable analysis in women (β-coefficient per standard deviation, 0.16; 95% CI, 0.03-0.28). Likewise, they found an independent positive association with estradiol and estradiol/total testosterone ratio and ESS. Finally, free testosterone and SHBG were associated with apnea-hypopnea index in premenopausal women after multivariable analysis (odds ratio [OR], 2.43; 95% CI, 1.07-5.55 and OR, 0.43; 95% CI, 0.19-0.96, respectively).
The authors noted that most of the sleep and sex hormone associations were not significant after multivariate analysis, "indicating a relevant impact of sex, body composition, and health-related lifestyle."
Limitations of the study included a lack of data on history of polycystic ovarian diseases and menstrual cycle in women. Further, polysomnography was based on a single night of sleep which may have been artificially disturbed.
"Sleepiness and sleep-disordered breathing are associated with testosterone, estradiol, and SHBG in a sex-specific manner. However, these cross-sectional relationships were no longer statistically significant after adjustment for life-style related factors," said Dr Liu.
"Even though this is a population based study, the sample size may have been insufficient to detect real relationships after statistical adjustment for multiple lifestyle related factors such as adiposity, smoking, physical activity, alcohol consumption, and hypertension. Ultimately, interventional studies will be required," wrote Dr Liu.
Disclosures: The authors report no conflicts of interest.
Reference