October 24, 2016
Resveratrol May Address Hormonal Imbalance in Polycystic Ovary Syndrome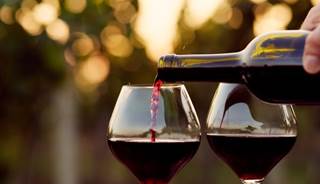 Resveratrol, found in grapes and wine, may be beneficial in polycystic ovary syndrome.
Resveratrol, a polyphenol found in red wine and grapes, may help reduce the elevated levels of adrenal and ovarian androgens often found in women with polycystic ovary syndrome (PCOS), according to data published in the Journal of Clinical Endocrinology & Metabolism.1
"Our study is the first clinical trial to find resveratrol significantly lowers PCOS patients' levels of testosterone as well as dehydroepiandrosterone sulfate (DHEAS), another hormone that the body can convert into testosterone," senior study author, Antoni J. Duleba, MD, of the University of California, San Diego in La Jolla, said in a press release.2 "This nutritional supplement can help moderate the hormone imbalance that is one of the central features of PCOS."
In a double-blind trial at Poznan University of Medical Sciences in Poland, Dr Duleba and colleagues randomly assigned 30 women with PCOS to resveratrol 1500 mg or placebo daily for 3 months (ClinicalTrials.gov identifier: NCT01720459).
Study results suggested that resveratrol had a beneficial effect. The researchers found a 23.1% decrease in serum testosterone among women receiving resveratrol (P =.01), as compared with a 2.9% increase among those receiving placebo (P =.78)—a difference that was statistically significant (P =.04).1 Similarly, they observed a 22.1% decline in DHEAS levels in the resveratrol group vs a 10.5% increase in the placebo group (P =.08).1 The difference between groups was also statistically significant (P =.002).1
Women also underwent an oral glucose tolerance test at the beginning and end of the study to assess diabetes risk factors. Results revealed a 31.8% decline in fasting insulin (P =.007) as well as a 66.3% increase in insulin sensitivity index (P =.04) in the resveratrol group.1 BMI, ovarian volume, gonadotropins, lipid profile, or markers of inflammation and endothelial function did not appear to be significantly affected by resveratrol.1 In the placebo group, ovarian volume was reduced and total cholesterol and HDL cholesterol increased from baseline to 3 months.1
"The findings suggest resveratrol can improve the body's ability to use insulin and potentially lower the risk of developing diabetes," Dr Duleba said.2 "The supplement may be able to help reduce the risk of metabolic problems common in women with PCOS."
Disclosures: RevGenetics provided resveratrol for the study. The researchers reported no conflicts of interest.
References
Banaszewska B, Wrotyńska-Barczyńska J, Spaczynski RZ, Pawelczyk L, Duleba AJ. Effects of resveratrol on polycystic ovary syndrome: a double-blind, randomized, placebo-controlled trial. J Clin Endocrinol Metab. 2016 Oct 18. doi:10.1210/jc.2016-1858 [Epub ahead of print].
Resveratrol can help correct hormone imbalance in women with PCOS [press release]. Washington, DC: Endocrine Society Newsroom; October 18, 2016. https://www.endocrine.org/news-room/current-press-releases/resveratrol-can-help-correct-hormone-imbalance-in-women-with-pcos. Accessed October 24, 2016.