June 16, 2016
Smoking Cessation May Be Easier During Certain Menstrual Cycle Phase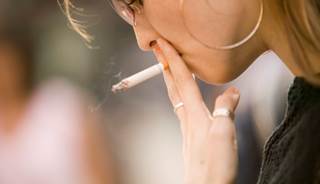 Women may find it easier to quit smoking during the luteal phase of their menstrual cycles.
(HealthDay News) — Certain weeks of a woman's menstrual cycle may be better than others for quitting smoking, according to a study published in Biology of Sex Differences.
The new study included 38 women smokers, aged 21 to 51, who were not taking hormonal contraceptives. They underwent scans to assess how regions of the brain that help control behavior are functionally connected to regions of the brain that signal reward.
Some participants were in the follicular phase of their menstrual cycle, while others were in the luteal phase. Those in the follicular phase had reduced functional connectivity between the 2 key regions of the brain. This could make it harder to say no when attempting to quit, the researchers suggested.
"The results from this study become extremely important as we look for more ways to help the over 40 million individuals in the United States alone addicted to cigarettes," senior author Teresa Franklin, PhD, a research associate professor of neuroscience in psychiatry at the University of Pennsylvania in Philadelphia, said in a university news release.
"When we learn that something as simple as timing a quit date may impact a woman's cessation success, it helps us to provide more individualized treatment strategies for individuals who are struggling with addiction."
Reference