August 12, 2015
Cancellation, Live Birth Rates Differ With Cyropreserved vs. Fresh Oocytes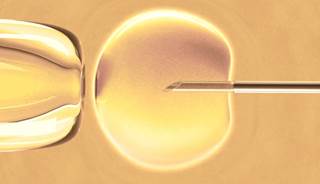 Cancellation, Live Birth Rates Differ With Cyropreserved vs. Fresh Oocytes
(HealthDay News) — In vitro fertilization (IVF) with cryopreserved donor oocytes has lower cancellation rates and lower live birth rates compared with donor cycles using fresh oocytes, according to a research letter published in the Journal of the American Medical Association.
Using data from the 2013 annual report of U.S. IVF center outcomes published by the Society for Assisted Reproductive Technology, Vitaly A. Kushnir, MD, from the Center for Human Reproduction in New York City, and colleagues compared live birth and cycle cancellation rates for fresh and cryopreserved donor oocytes.
The aggregate data set was based on center-specific voluntarily reported outcomes from 380 U.S. fertility centers.
Twenty percent of 11,148 oocyte donation cycles involved use of cryopreserved donor oocytes, the researchers found. Initiated cycles were cancelled in 11.7% and 8.5% of cycles involving fresh oocytes and cryopreserved oocytes, respectively (P<.001).
The live birth rates were 49.6% and 43.2% with fresh and cryopreserved oocytes, respectively, per started recipient cycle (P<.001), and 56.1% and 47.1%, respectively, per embryo transfer (P<.001). Patients using fresh vs. cryopreserved oocytes had a mean of 1.7 vs. 1.6 embryos (P=.001).
"Even though these data offer new information about use of cryopreserved oocytes in donation cycles, they also demonstrate the need for additional studies," the researchers wrote.
Several authors disclosed financial ties to Fertility Nutraceuticals. One author was the owner of the Center for Human Reproduction.
Reference