July 15, 2016
Factors Related to Temporal Patterns of Vasomotor Symptoms During Menopause Identified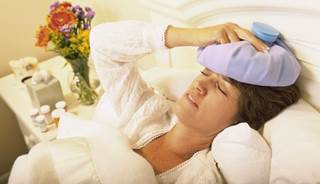 Relatively equal proportions of women exhibited the 4 distinct patterns of vasomotor symptoms.
Vasomotor symptoms, including hot flashes and night sweats, have distinct temporal patterns that may be predicted by reproductive hormones, race and ethnicity, premenopausal BMI, and psychosocial characteristics, according to recent data published in Menopause.
The study included 1455 women with nonsurgical menopause from the Study of Women's Health Across the Nation (SWAN), a multisite longitudinal study of women from 5 racial and ethnic groups transitioning through menopause: white (47.3%), black (25.8%), Japanese (11.5%), Chinese (9.8%), and Hispanic (5.6%).
After a median of 15.4 years, researchers evaluated temporal patterns of vasomotor symptoms and associations with serum estradiol and follicle-stimulating hormone (FSH), race and ethnicity, BMI, and demographic and psychosocial factors.
The researchers found that there were 4 distinct trajectories of vasomotor symptoms. These included an onset early trajectory, which started 11 years before the final menstrual period with decline after menopause (early onset: 18.4%), onset near the final menstrual period with later decline (late onset: 29.0%), early onset with persistently high frequency (high: 25.6%), and early onset with persistently low frequency (low: 27.0%).
"Relatively equal proportions of women exhibited the 4 distinct patterns of VMS (vasomotor symptoms)," the authors wrote. "This work challenges the long held assumption that most women experience VMS for the few years around the FMP (final menstrual period) and then cease thereafter. Conversely, it shows that VMS patterns are heterogeneous and consistent with prior work, 5 VMS typically last for a decade or longer."
Women who had persistently high and early-onset vasomotor symptoms had a more adverse psychosocial and health profile compared with women with persistently low symptoms.
In addition, the researchers found that black women were overrepresented in the late-onset and high-vasomotor symptom subgroups compared with white women (P<.05), and obese women were also underrepresented in the late-onset subgroup (odds ratio, 0.56; 95% CI, 0.36-0.87; P< 0.05).
Results also demonstrated an association between estradiol levels over the menopause transition and vasomotor symptom patterns. In the early- and high-vasomotor symptom groups in particular, low estradiol levels were related to symptom occurrence. Similar associations between participant characteristics and vasomotor symptoms were noted when FSH levels were substituted for estradiol in the analysis. FSH levels did not distinguish the vasomotor symptom groups. However, women in the high-vasomotor symptom group appeared to be more likely to have high FSH levels as compared with the low-vasomotor symptom group.
The authors note that changes in reproductive hormone levels or intracellular and central nervous system processes warrant further investigation to determine the biological basis of vasomotor symptoms.
"Information about a woman's race/ethnicity, hormonal status, overall health status, and psychosocial profile can help a woman predict what course her VMS may follow," they concluded.
"Additional investigation into genetic, lifestyle, and symptom characteristics that define subgroups of women with different vasomotor trajectories may allow for the development of new and effective behavioral and pharmacological treatments tailored to these trajectories."
Reference