November 20, 2018
Psychosocial Risks Associated With Central Precocious Puberty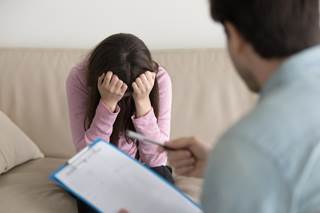 Earlier age at menarche was associated with higher rates of depressive symptoms and antisocial behaviors that persisted into adulthood.
While puberty is a difficult time for most children, it is particularly challenging for children with central precocious puberty (CPP). CPP is the consequence of early activation of the hypothalamic-pituitary-gonadal (HPG) axis, resulting in puberty onset before age 8 in girls and 9 in boys. CPP is estimated to affect 1 in 500 girls and 1 in 2000 boys.1 In girls, the cause is typically idiopathic, while CPP in boys is often due to identifiable organic causes such as adrenal or pituitary tumors.2
In addition to the risk that children with CPP will not reach their adult height potential, a range of studies have noted a high risk for psychological, social, and behavioral problems in this population.1 Thus, increased adult height and reduced psychological morbidity are the main goals of therapy with gonadotropin-releasing hormone (GnRH) analogs, the standard treatment for CPP.3
"Earlier pubertal timing in girls is one of the best-replicated antecedents of adolescent mental health problems, including depression, anxiety, disordered eating, delinquency, substance use, and school failure or dropout," according to the investigators in a prospective study with results published in January 2018 in Pediatrics.4 "Because physical maturation is entwined with changes in social roles and relationships, this association is commonly attributed to the natural difficulty of contending with new changes and stressors at a younger chronological age coupled with specific, puberty-triggered neural changes that may increase susceptibility for psychopathology during adolescence."
In a study of 7802 women, earlier age at menarche was associated with higher rates of depressive symptoms and antisocial behaviors that persisted into adulthood.4 Other findings have also linked early puberty with impaired psychological and behavioral issues in boys, although the association does not appear to be as strong.5
Despite the critical impact of CPP on patients' mental health, there is a dearth of validated instruments available for the clinical assessment of CPP. A 2018 study published in the Journal of Pediatric Endocrinology & Metabolism evaluated various patient-centered psychosocial assessments for use in children with CPP, including the Child Behavior Checklist, Pediatric Quality of Life Inventory (PedsQL), SF-10 Health Survey for Children, and Child Health Questionnaire.1
While none of these assessments was determined to be "entirely fit" for use in this patient group, the researchers concluded that the 23 items that comprise the PedsQL "best encompass the concepts of psychosocial functioning appropriate to young children with CPP aged [2 to 12] years, with an interviewer-administered self-report version for children as young as 5 years of age." This assessment is available in more than 70 languages and has been included in hundreds of peer-reviewed articles.1
Along with continued research regarding the utility of the PedsQL and other assessments to evaluate psychosocial functioning in CPP, additional "studies are also needed to assess whether [health-related quality of life] issues described in children with CPP improve with treatment, and whether the current trend toward earlier recognition and treatment of children with CPP improves those outcomes," the investigators stated.1
Endocrinology Advisor checked in with Melissa J. Schoelwer, MD, assistant professor at the University of Virginia (UVA) and pediatric endocrinologist at UVA Children's Hospital in Charlottesville, and Andrea Mucci, MD, MASc, staff pediatric endocrinologist at Cleveland Clinic in Ohio, to further discuss mental health issues pertaining to CPP.
Endocrinology Advisor: What are some of the psychological and emotional issues that commonly affect children with CPP?
Melissa Schoelwer, MD: Although early menarche is associated with a number of adverse psychological outcomes including depression and anxiety, research in children with CPP as diagnosed by a pediatric endocrinologist is limited and at times conflicting.
Andrea Mucci, MD: Puberty is known to be a period of significant development not just physically, but also socially and psychologically. Behavioral changes such as sexuality and aggression are often thought to be hormonally induced and may occur earlier in these children. Girls with CPP, in particular, can sometimes experience more challenges with body image and low self-esteem, which can put them at increased risk for depressive and/or anxiety symptoms. There may be additional stress caused by deviation from peers that could also attract negative attention and potentially result in bullying — both as victims and/or as bullies. It should also be mentioned that GnRH analogs, the classic treatment for CPP, can occasionally be associated with emotional lability and mood changes.
Endocrinology Advisor: What can clinicians do to best address these issues?
Dr Schoelwer: Parents are often more concerned about the psychological consequences of early puberty than its impact on height, yet clinicians are often inept at counseling them on this issue. It is essential for clinicians to discuss these concerns with parents and provide reassurance as appropriate. Parents should also be informed of the lack of data available regarding the impact of treatment with GnRH analogs on psychological outcomes.
Dr Mucci: Openly addressing the possible increased risk for psychological and social challenges at the time of diagnosis and at follow-up can help prepare the patient and family, as well as help detect any major issues early. Early referral to a mental health specialist may help the patient work through these challenges.
Endocrinology Advisor: What are the remaining research needs regarding CPP?
Dr Schoelwer: Future research should be directed at whether pubertal suppression with GnRH analogs alleviates any potential psychological distress in children with CPP, particularly in girls who fall in the controversial 7-to 8-year-old range when treatment would likely not increase height prediction.
Dr Mucci: Increasing knowledge about the impact of both normal and early puberty on mental health and psychosocial functioning could help healthcare providers provide better care for patients and anticipatory guidance for families.
Furthermore, there is a paucity of evidence regarding whether or not treatment with GnRH analogs are associated with improved psychological outcomes or not. Many experts agree that controlled studies with standardized instruments to better evaluate this issue are needed.
Edited and revised for clarity by Endocrinology Advisor.

Follow @EndoAdvisor
References
1. Williams VSL, Soliman AM, Barrett AM, Klein KO. Review and evaluation of patient-centered psychosocial assessments for children with central precocious puberty or early puberty. J Pediatr Endocrinol Metab. 2018;31(5):485-495.
2. Boston Children's Hospital. Precocious (early) puberty symptoms & causes. www.childrenshospital.org/conditions-and-treatments/conditions/p/precocious-early-puberty/symptoms-and-causes. Accessed November 14, 2018.
3. Tanaka T. Management of precocious puberty. Int J Pediatr Endocrinol. 2013; 013(Suppl 1):O10.
4. Mendle J, Ryan RM, McKone KMP. Age at menarche, depression, and antisocial behavior in adulthood. Pediatrics. 2018;141(1):e20171703.
5. Weir K. The risks of earlier puberty. American Psychological Association. 2016;47(3):40. www.apa.org/monitor/2016/03/puberty.aspx. Accessed October 31, 2018.