June 29, 2016
Abnormal Adrenal Function May Affect Some Women With PCOS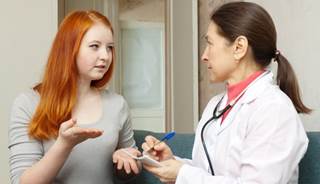 Excess adrenal production may occur in a subgroup of women with polycystic ovary syndrome.
In a subset of women with polycystic ovary syndrome (PCOS), steroid hormone secretion patterns similar to those seen in patients with adrenal disorders, according to a recently published study.
A hallmark of PCOS is hyperandrogenism, which may be ovarian or adrenal in origin, researchers noted in the Journal of Clinical Endocrinology & Metabolism. They theorized that abnormal adrenal function may be responsible for excess androgen production in some women with the disorder.
For the study, the researchers assessed adrenal function in 38 women with PCOS and 20 healthy volunteers using Liddle's test — an oral low- and high-dose dexamethasone-suppression test. Outcome measures included urinary free cortisol and 17-hydroxy steroids before and after low- and high-dose dexamethasone as well as evaluation of adrenal volume measured by CT scan.
Results showed higher 24-hour urinary free cortisol in women with PCOS as compared with the healthy volunteers on day 6, the day after completion of high-dose dexamethasone administration (2.0 mcg/m2/day vs 1.5 mcg/m2/day; P=.038).
Data also delineated a negative association between adrenal volumes on the left and right sides and 17-hydroxy steroids and urinary free cortisol (rp=-0.47; P=.009 and rp=-0.61; P<.001, respectively) on day 5.
Fifteen women with PCOS were high responders, which was defined as being above the 75th percentile for urinary free cortisol and/or 17-hydroxy steroids after high-dose dexamethasone. High responders did not differ from normal responders in terms of insulin resistance or hyperandrogenism, but they did have smaller total adrenal volume (6.9 cm3 vs 9.2 cm3; P=.003).
"This is the first study to demonstrate in patients with PCOS a pattern of steroid hormone secretion that mimicked the one that we have described in patients with micronodular adrenocortical diseases," the researchers concluded. "These data suggest that in at least some patients with PCOS there might be contribution in the pathophysiology of the disease from abnormal adrenocortical cells that maintain a steroid hormone secretion that is pituitary ACTH-independent or at least not dexamethasone-suppressible."
These findings may shed new light on treatment for PCOS, according to senior study author Constantine Stratakis, MD, director of intramural research at the National Institutes of Health's Eunice Kennedy Shriver National Institute of Child Health and Human Development.
"Traditionally, treatment for PCOS has included modifying ovarian hormones," Dr Stratakis said in a press release. "Our findings indicate that a subgroup of patients could conceivably benefit from modification of adrenal hormones as well."
Dr Stratakis and colleagues noted, however, that studies involving larger groups of patients with PCOS are necessary before drawing firm conclusions.
Disclosures: The study was supported by the Intramural program of the Eunice Kennedy Shriver, National Institute of Child Health & Human Development, the NIH Clinical Center, and the Bench to Bedside Award (2010). The researchers report no conflicts of interest.
Reference