August 04, 2016
Diabetes Risk Higher With 'Nonfunctional' Adrenal Tumors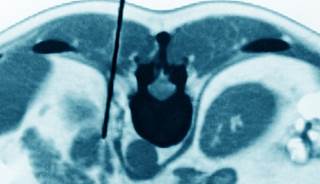 Nonfunctional adrenal tumors have been linked to an increased risk for diabetes.
With the increasing use of abdominal imaging in recent years, the incidental discovery of adrenal tumors occurs more frequently. Although it is estimated that they are detected in 1% to 10% of abdominal imaging studies, the majority of these are determined to be benign tumors that are viewed as nonfunctional and thus clinically unimportant. A new cohort study published in the Annals of Internal Medicine, however, suggests that there may be a need to reconsider this line of thought.
With approximately 10% of adrenal tumors, subclinical hypercortisolism may be present, in which there is excess cortisol secretion in the absence of the typical signs and symptoms of hypercortisolism, also known as Cushing's syndrome. Subclinical hypercortisolism has been associated with a range of metabolic conditions, including hypertension and type 2 diabetes, among others, and some findings have linked it with a higher risk of cardiovascular (CV) events and mortality compared with nonfunctional adrenal tumors.
Preliminary evidence from previous small studies, however, indicates that even patients with tumors that are considered nonfunctional may have impaired cardiometabolic functioning vs control patients without adrenal tumors. This suggests that nonfunctional adrenal tumors "may not be nonfunctional after all; they may impart cardiometabolic risk by secreting inappropriate amounts of adrenal hormones that evade traditional clinical criteria and detection capabilities," according to the authors.
To investigate this possibility, they compared the risk for diabetes and other outcomes in patients with nonfunctional adrenal tumors to that of patients who did not have adrenal tumors. The researchers assembled a cohort using individual medical records of hospital patients who had undergone abdominal imaging via CT or MRI.
The main outcomes — hypertension, composite diabetes, hyperlipidemia, CV events, and chronic kidney disease — were assessed at baseline and during follow-up. Only the patients who had 3 or more years of available follow-up — 166 with nonfunctional adrenal tumors and 740 without adrenal tumors — were included in the final analyses.
The results show that composite diabetes was found in 27.3% of those with nonfunctional adrenal tumors vs 11.7% of patients without adrenal tumors, and the risk for composite diabetes was significantly higher in patients with nonfunctional adrenal tumors (absolute risk=15.6%; 95% CI, 6.9-24.3; adjusted risk ratio=1.87; 95% CI, 1.17-2.98). No additional significant associations were observed for the other outcomes.
These results have several clinical and research implications, including the potential need to reevaluate the current classification of adrenal tumors as nonfunctional. Additionally, the findings suggest that incidentally detected adrenal tumors may be "independent risk factors for diabetes that may warrant more frequent surveillance for glucose intolerance," wrote the authors.
Future investigations should use broad adrenal steroid metabolite profiling to explore "whether nonfunctional adrenal tumors secrete inappropriate amounts of glucocorticoid that evade current clinical practice and contribute to adverse outcomes," they concluded.
Disclosures: Dr Turchin reports receiving personal fees from Novo Nordisk and Monarch Medical Technologies and grants from Sanofi and Merck. Dr Vaidya reports receiving grants from the National Institutes of Health and the Doris Duke Charitable Foundation and personal fees from the Endocrine Society. All other authors report no financial conflicts of interest.
Reference