April 12, 2016
Case Report Describes Cushing's Syndrome in Infant Treated With Ophthalmic Steroid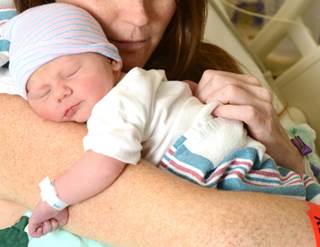 An infant developed iatrogenic Cushing's syndrome after treatment with intranasal dexamethasone.
(HealthDay News) — In a case report published in Pediatrics, iatrogenic Cushing's syndrome is described in an infant following intranasal usage of dexamethasone ophthalmic solution.
Sarah Orton, MD, and Marisa Censani, MD, from Weill Cornell Medicine in New York City, present the case of a 4-month-old male infant who was born at 26 weeks of gestation. He was treated for nasal obstruction with intranasal dexamethasone ophthalmic solution administered for 6 weeks.
The researchers found that after steroid introduction, the infant's growth velocity had decreased. He was noted to have large ruddy cheeks with moon facies on exam. A morning cortisol level of lower than 0.4 mcg/dL was obtained and the patient was diagnosed with iatrogenic Cushing's syndrome.
Dexamethasone taper was initiated, with discontinuation by 4 months post-ophthalmic steroid initiation. His morning cortisol level was 1.6 mcg/dL by 1 month post-steroid use and his Cushingoid facies had resolved by 2.5 months post-steroid use. At 4.5 months following discontinuation of steroids, the infant's hypothalamic-pituitary-adrenal axis had recovered fully.
"Because of the small body surface area and supine position during administration, infants are particularly susceptible to iatrogenic Cushing's syndrome," the authors wrote. "Close monitoring of these patients' height and weight should occur while on steroid treatment, with every effort made to decrease or discontinue steroid use when possible."
Reference