June 12, 2016
Fast-Acting vs Standard Insulin Aspart Improved Postprandial Glucose at 1 Hour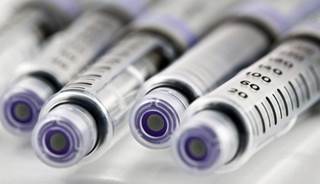 Fast-acting insulin aspart may be beneficial in improving postprandial glucose.
NEW ORLEANS — New data from the Onset 2 trial suggest that compared with standard insulin aspart, faster-acting insulin aspart improved early postprandial glucose elevation in patients with type 2 diabetes, but did not impact HbA1c.
"Faster aspart resulted in a significant improvement of postprandial glucose at the 1-hour timeframe on a standardized meal test at the end of the study as compared to standard aspart," said study investigator Keith Bowering, MD, of the University of Alberta, Edmonton, Canada. "This improvement was not significant by the 2-hour mark on the meal test or thereafter up to 4 hours."
The multicenter, double blind, treat-to-target trial was presented at the American Diabetes Association (ADA) 76th Scientific Sessions.
Dr Bowering told Endocrinology Advisor that there is currently a treatment gap between the available mealtime bolus insulins when compared with the physiological insulin action of the normal pancreas.
"The relative delay in insulin absorption and availability can contribute to elevations in postprandial blood glucose," he said. "We are aware that postprandial glucose control is important in optimizing HbA1c levels and has potential implications in improving diabetes complications. Obviously, there is a need to try to mimic normal mealtime insulin patterns and hence the need for a faster-acting insulin than we currently have in our toolbox."
This led Dr Bowering and colleagues to conduct the Onset 2 trial, which was designed to compare the efficacy of a fast-acting insulin aspart with a standard insulin aspart formulation in patients with type 2 diabetes who were bolus-naïve before the trial.
Researchers enrolled adult patients with uncontrolled type 2 diabetes who were on basal insulin and oral antidiabetic drugs. Patients received optimized basal insulin glargine during an 8-week run-in (mean HbA1c, 7.9%) and were randomly assigned 1:1 to mealtime faster aspart (n=345) or standard insulin aspart (n=344). Each regimen included glargine and metformin, using a simple daily patient-driven titration algorithm, according to study methodology.
The primary end point, which was defined as mean change in HbA1c from baseline to week 26, was –1.38% in the faster aspart arm and –1.36% in the standard arm. Overall, mean HbA1c for both groups was 6.6%.
Data indicated that faster aspart was noninferior to insulin aspart in reducing HbA1c (estimated treatment difference, –0.02%; 95% CI, –0.15 to 0.10).
The research also revealed that both basal-bolus regimens improved postprandial glucose control, and that at the 1-hour postprandial glucose control increment (meal test), there was a statistically significant difference in favor of faster aspart.
Similar rates of overall severe or confirmed hypoglycemia (plasma glucose, <3.1 mmol/L [56 mg/dL]) were reported.
For Dr Bowering, what was particularly encouraging about the results was how effective the addition of mealtime bolus insulin was in dramatically improving HbA1c levels in patients already on basal insulin.
"Study subjects improved from an HbA1c of 8% to 6.6% in both study populations with the use of either faster aspart or standard aspart," he said. "It remains to be seen how the glucose benefit in the early postprandial phase with faster aspart translates into clinical results."
Disclosure: Dr Bowering is an advisory panel member, consultant, and/or has received research support from Novo Nordisk A/S, Eli Lilly, AstraZeneca, Boehringer Ingelheim Pharmaceuticals, Janssen Pharmaceuticals, Sanofi, and Merck.
For more coverage of ADA 2016, click here.
Reference
Bowering K, Case C, Harvey J, et al. Abstract 240-OR/240. Faster-Acting Insulin Aspart vs. Insulin Aspart as Part of Basal-Bolus Therapy Improves Postprandial Glycemic Control in Uncontrolled T2D in the Double-Blinded Onset 2 Trial. Presented at: ADA 76th Scientific Sessions; June 10-14, 2016; New Orleans, LA.