June 13, 2016
Interventions After Major Life Events May Improve Outcomes in Youths With Type 1 Diabetes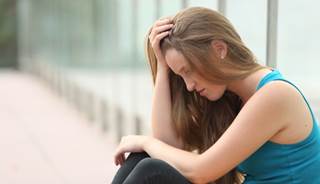 Major life events may have an adverse impact on youth with type 1 diabetes.
NEW ORLEANS — Screening for major life events in medical settings may help identify teens with type 1 diabetes who are at risk for poor outcomes and suboptimal diabetes control, which may allow for timely intervention, according to a new study.
"This is the first study in which we systematically looked at the impact of life events in a group of adolescent patients with type 1 diabetes. This is an age group that is recognized to experience deterioration in adherence and glycemic control. We identified an association between the number of reported life events and socio-demographic factors, diabetes management factors, and both teen- and parent-reported psychosocial issues," said one of the study author Persis Commissariat, PhD, a research fellow in pediatrics and behavioral and mental health at Joslin Diabetes Center, Boston, Massachusetts.
"There were a number of findings that were expected, which provides reassurance to our current approaches to care, while other findings offer a means to identify teens with type 1 diabetes and their families who would benefit from greater support from the health care team."
The findings were presented at the American Diabetes Association (ADA) 76th Scientific Sessions.
Dr Commissariat and her colleagues assessed the frequency and type of major life events in a contemporary sample of teens with type 1 diabetes. They also looked at the impact of major life events on glycemic control, as defined by HbA1c, as well as teen-reported and parent-reported treatment adherence.
The investigators also examined diabetes self-efficacy, family interactions, and quality of life. Parents of 176 teens completed the Life Events Checklist (Johnson & McCutcheon, 1980) to report major life events experienced by their teen in the past 12 months, according to Dr Commissariat.
The teens and parents completed validated measures that assessed diabetes adherence and diabetes self-efficacy. The investigators also evaluated diabetes-specific family conflict and teen quality of life as reported by the teens and parents. Forty-eight percent of the teens in this study were female, and the mean age was 14.9 years. Mean disease duration was 7.3 years; mean HbA1c levels were 8.5%; and 75% received continuous subcutaneous insulin infusion.
Results showed that the median number of life events for the teens was 2 (range: 0 to 15). The most commonly endorsed major life events were hospitalization of a family member (24%), getting a bad report card (20%), and serious arguments between parents (19%). Others included serious illness or injury in a family member (18%), going to a new school (17%), and family financial problems (17%).
Dr Commissariat said that additional analyses showed that more major life events significantly predicted higher HbA1c levels. The teens who experienced 1 or less major life events had HbA1c levels of 8.2% compared with 9.1% in teens with at least 4 life events. The study also showed that teens with only 0 to 1 major life event performed blood glucose monitoring 5.5 times a day compared with 4.8 times a day in teens with at least 4 major life events.
Overall, the researchers found that the greater number of major life events reported by parents predicted poorer adherence, lower self-efficacy, more diabetes-specific family conflict, and poorer teen quality of life.
"These findings can have implications to endocrinologists and diabetes multidisciplinary teams as a means to identify patients with type 1 diabetes and their families in need of greater support at a time when the teens may be experiencing competing stressful life events that impact diabetes self-care behaviors and both biomedical and psychosocial health outcomes," said senior investigator Lori Laffel, MD, MPH, chief of pediatric, adolescent, and young adult section and a professor of pediatrics at Harvard Medical School, Boston, Massachusetts.
"These data revealed substantial differences in the families reporting experiencing 4 or more life events in the past year, which included about one quarter of the sample, compared to those families reporting fewer life events."
The researchers found a constellation of socio-demographic and family factors, diabetes management factors, and both teen and parent psychosocial factors that were associated with reported life events for teens with type 1 diabetes and their families. Dr Laffel said the socio-demographic factors associated with parent report of life events were not unexpected, as these factors have been recognized as unmodifiable family factors associated with risk for suboptimal outcomes for teens, such as 1-parent vs 2-parent families and low parent education vs college education for parents.
"The teens in families reporting a greater number of life events had poorer glycemic control (higher HbA1c) than the teens in families reporting few life events," Dr Laffel told Endocrinology Advisor. "The report of a greater number of life events was associated with both teen- and parent-report of lower diabetes adherence, lower self-efficacy, lower quality of life, and higher diabetes-specific family conflict. Therefore, screening for life events, either formally or informally, during clinic encounters may help identify teens with type 1 diabetes and their families in need of increased support in order to prevent deterioration in the teen's glycemic control and poor psychosocial outcomes."
Disclosures: Dr Commissariat reports no financial disclosures. Dr Laffel is a consultant for AstraZeneca, Boeringer Ingelheim, Dexcom, Eli Lilly and Company, Johnson & Johnson, Novo Nordisk, Roche Diagnostics, and Sanofi US.
For more coverage of ADA 2016, click here.
Commissariat PV, Guo Z, Elbach JL, Volkening LK, Laffel LM. Abstract 156-OR. Effect of Major Life Events on T1D Care and Glycemic Control in Teens. Presented at: ADA 76th Scientific Sessions; June 10-14, 2016; New Orleans, LA.