June 24, 2016
Ipragliflozin Performed Well in Insulin-Treated Japanese Patients With Type 2 Diabetes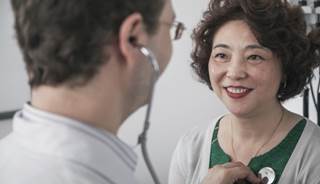 Ipragliflozin was beneficial for insulin-treated Japanese patients.
NEW ORLEANS — Ipragliflozin, a sodium-glucose co-transporter 2 (SGLT2) inhibitor, was efficacious and well tolerated in a cohort of Japanese patients with type 2 diabetes who were on insulin therapy.
Researchers presented the findings at the American Diabetes Association (ADA) 76th Scientific Sessions.
The randomized, double blind, placebo-controlled study included patients with an HbA1c of 7.5% to 10.5% who were on insulin therapy for basal insulin supplementation. Patients received once daily ipragliflozin 50 mg (n=175) or placebo (n=87) for 16 weeks in conjunction with insulin with or without ongoing dipeptidyl peptidase-4 (DDP-4) inhibitors.
Change in HbA1c from baseline to the end of treatment served as the primary efficacy end point.
Baseline characteristics were comparable between groups.
Researchers reported that patients who received ipragliflozin experienced greater decreases in HbA1c (−0.79% vs 0.27%; P<.001) and fasting plasma glucose (−29.3 mg/dL vs 10.4 mg/dL; P<.001).
In interaction analyses, there were significant interactions for use and non-use of a DPP-4 inhibitor by treatment group (P=.042).
Compared with placebo, those receiving ipragliflozin had greater decreases in body weight (P<.001) and C-peptide (P<.001), and a greater increase in adiponectin (P=.022).
Occurrence of adverse drug reactions was nearly 2-fold higher among patients in the ipragliflozin group compared with placebo (42.3% vs 21.8%). Specifically, rates of hypoglycemia (29.7% vs 14.9%), urinary tract infection (2.3% vs 1.1%), genital infection (4% vs 0%), and body fluid volume/electrolyte adverse drug reactions (2.3% vs 1.1%) were all higher in the ipragliflozin arm.
Furthermore, all hypoglycemia episodes were mild in severity, with no ketoacidosis symptoms occurring.
"[Ipragliflozin] is effective, especially when used with a DPP-4 inhibitor, and well tolerated in Japanese patients treated with insulin," the researchers wrote in the abstract. "In addition, the present data suggest that effects on glycemic control of [ipragliflozin] are attributed partly to an improvement in insulin resistance."
Disclosures: The researchers are employees of or have received research support from various pharmaceutical companies.
Reference
Ishihara H, Yamaguchi S, Nakao I, Okitsu A, Asahina S. Abstract 243-OR. Efficacy and Safety of Ipragliflozin, an SGLT2 Inhibitor, Add-on to Insulin in Japanese Patients: Results of a Double-Blind, Placebo-Controlled Study. Presented at: ADA 76th Scientific Sessions; June 10-14, 2016; New Orleans, LA.