June 20, 2016
Cardiovascular Disease Mortality Decreased Among Elderly Patients with Diabetes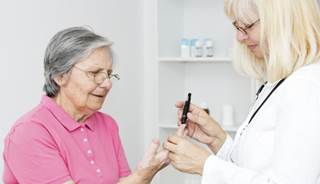 Researchers found that mortality decreased significantly faster in adults with diabetes, as compared to adults without diabetes.
NEW ORLEANS – Rates of cardiovascular disease (CVD) mortality appear to have dropped significantly over the past decades in patients with diabetes over the age of 65 but not among those between the ages of 20 and 54, according to a new study presented at the American Diabetes Association's 76th Scientific Sessions.
Overall, the researchers found that adults with diabetes have experienced significant reductions in CVD mortality between 1988 and 2011. In addition, those reductions have also caused a reduction in the race-related disparity that exists in patients with diabetes. However, the authors of this study report that the lack of a reduction in CVD death rates among young patients between the ages of 20 to 54 is a very real concern that warrants further investigation.
"This is the first study to look at the trends and disparities in the cardiovascular disease mortality among the U.S. adults with and without diabetes. We were expecting that there were decline of mortalities among the adults with diabetes in general. However, we found that the mortality was decreasing significant faster in the persons with diabetes than adults without diabetes, even more, the disparities in CVD mortality have been substantially improved, especially among adults with diabetes between women and men and between non-Hispanic black and non-Hispanic white," said study investigator Yiling Cheng, MD, PhD, an epidemiologist in the Division of Diabetes Translation National Center for Chronic Disease Prevention and Health Promotion with the Centers for Disease Control and Prevention (CDC), Atlanta, Georgia.
Dr Cheng and his colleagues analyzed the trends and disparities in CVD mortality between 1988 and 2011 among US adults by diabetes status. The authors noted that while CVD morality rates have declined substantially in the US over the past decade, there have been few published reports on the trends among adults with type 2 diabetes. Dr Cheng and his team wanted to determine whether age, sex, and race disparities have declined over the past decade.
The researchers examined data from the National Health Interview Survey from 1985 to 2009. It contains mortality follow-up through the end of 2011. The investigators analyzed the trends in underlying CVD mortality by diabetes status.
The study showed that from 1988 to 2011 among adults with diabetes, the age-sex-race adjusted death rates were 8.0 per 1000 person-years for CVD and 6.7 per 1000 person-years for heart disease. Interestingly, the adjusted death rates for stroke were only 1.0 per 1000 person-years (crude 2.0). Overall, the annual relative decreases of death rates for CVD, heart disease, and stroke were comparable to those of adults without diabetes from 1988 to 2011.
"The CVD mortality changes reflected both incidence and fatality change of CVD. In our study, we also examined 4 major subcategories of CVD: heart disease, stroke, heart failure, and arrhythmias. We noted significant decreases in mortality associated with heart, stroke and arrhythmias. We speculate that the advance of clinical treatment and increased medical accessibility might account for some of these changes," Dr Cheng told Endocrinology Advisor.
He said that adults with diabetes in the US have experienced large reductions in CVD mortality over the past 2 decades. The disparities of CVD mortality have been substantially improved, especially among men and women and among whites and non-whites. The researchers found that the adjusted CVD death rate declines were similar between men and women. They were pleased to find that decreases in CVD death rates declined at an even greater rate for blacks than whites with the differences decreasing from 0.34 in 2000 to -0.04 in 2011.
"Increased access to health care across all social-demographic subgroups may help to minimize disparities in CVD mortality," said Dr Cheng. "However, it is important to point out that in spite of these improvements, there are still large gaps in prevention of disease and medical care that, if they could be overcome, could further reduce increased risk of cardiovascular disease in people with diabetes. For this reason, careful attention to blood pressure, lipid, and glycemic control, and smoking cessation for people with diabetes remains a major priority."
Reference
Cheng YL, Imperatore G, Geiss LS, et al. Abstract 91-OR/91. Trends and disparities in cardiovascular mortality among US adults by diabetes status, 2000-2011. Presented at: ADA 76th Scientific Sessions; June 10-14, 2016; New Orleans, LA.