August 18, 2016
Addressing Female Sexual Dysfunction in Diabetes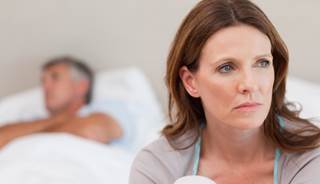 Female sexual dysfunction in diabetes remains a challenge.
Estrogens may be prescribed for patients with depletion of estrogen, Dr Rochester said, and transdermal testosterone may be prescribed for patients with depletion of androgens. She noted that sildenafil (Viagra, Pfizer) was studied for female sexual arousal disorder but was not approved by the Food and Drug Administration (FDA). She explained that there have been a wide variety of studies on sildenafil therapy in women for a variety of female sexual disorders with many conflicting results.
Flibanserin (Addyi, Sprout Pharmaceuticals) has been approved by the FDA for women with hypoactive sexual desire disorder (HSDD). It is a serotonin 1A receptor agonist and a serotonin 2A receptor antagonist. However, Dr Rochester said the mechanism by which the drug improves sexual desire and related distress is not known. This oral agent is a nonhormonal therapy. It increases dopamine and noradrenalin while reducing serotonin in the brain. This in turn, according to Rochester, seemingly has a positive effect on a woman's sexual craving.
Flibanserin was originally studied as an antidepressant but turned out to be a poor treatment. During the clinical trial, however, many women reported more sexual interest and overall satisfying sexual experiences than before, according to Rochester. Prior to approval of flibanserin, there were no FDA-approved treatments for sexual desire disorders in men or women, she noted.
However, now that there are more treatment options and a greater awareness, it should be easier for clinicians to address this issue with their patients.
"I want to encourage endocrinologists to utilize interviewing techniques to assess female sexual dysfunction in diabetes patients and consider therapy for suitable patients as part of the holistic care for the female diabetes patient," said Dr Rochester.
Reference
Rochester C. D28 - Blue Pill, Pink Pill? How to Manage Sexual Dysfunction in Women with Diabetes. Presented at: AADE 2016; August 12-15, 2016; San Diego, CA.