May 26, 2016
Radiofrequency Ablation May Be Safe, Effective Treatment for Adrenal Neoplasms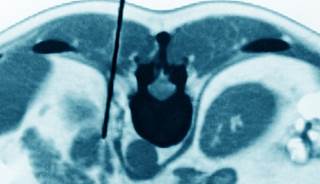 Radiofrequency ablation may be a good alternative to adrenalectomy.
ORLANDO, Fla. — Radiofrequency ablation appears to be a safe and effective procedure to treat adrenal tumors in patients who are poor candidates for or who refuse surgery.
At the American Association of Clinical Endocrinologists (AACE) 25th Annual Scientific & Clinical Congress, researchers reported that radiofrequency ablation may offer an alternative to adrenalectomy in the treatment of benign and malignant adrenal gland tumors.
"Radiofrequency ablation is a procedure that has been used most commonly in the treatment of hepatic and renal tumors. It is now gaining acceptance in the treatment of adrenal tumors as it offers a safe and effective alternative to surgery for patients with functional adrenal tumors that secrete hormones, and primary or metastatic adrenal tumors," said study researcher Lima Lawrence, MD, a second-year internal medicine resident at the University of Illinois at Chicago-Advocate Christ Hospital, Oak Lawn Illinois.
Dr Lawrence discussed the case of a 65-year-old woman with an adrenal cortisol-producing tumor successfully treated with radiofrequency ablation. The patient had a history of type 2 diabetes, uncontrolled hypertension, and low-grade ovarian cancer after total hysterectomy and omentectomy.
This patient had a 0.9-cm right-sided adrenal mass. The mass had increased over a period of 5 years to 3.6 cm x 3.5 cm x 3.3 cm with an attenuation of 30.2 Hounsfield Units (HU), according to Dr Lawrence. The patient was hypertensive, anxious, and obese with prominent supraclavicular fat pads and proximal muscle weakness.
A radiofrequency ablation needle with an active tip was inserted and gradually advanced to the adrenal lesion. Radiofrequency ablation uses alternating electrical current to generate heat and induce thermal damage and tissue necrosis at temperatures of 50° to 60° C in the area adjacent to the electrode tip.
Radiofrequency ablation has been shown in various studies to resolve abnormal biochemical markers and clinical symptoms caused by adrenal tumors. Dr Lawrence and her colleague Aleida Rodriguez, MD, primary author on the abstract, hope to raise awareness among clinicians about the utility of radiofrequency ablation in select patients.
"Our abstract highlights the case of a patient with adrenal Cushing's who successfully underwent radiofrequency ablation of a hormonally active right adrenal adenoma producing cortisol. Our patient experienced biochemical and clinical improvement after the procedure with normalization of hormone levels (cortisol), symptomatic relief, with improvement in hypertension and hyperglycemia," Dr Lawrence told Endocrinology Advisor.
She said there were also improvements in radiological findings, with a reduction in the size of the adrenal mass with decreased contrast enhancement when compared with pre-procedure.
This case reinforces the safety and effectiveness of radiofrequency ablation in a patient who is precluded from traditional adrenalectomy due to the intraoperative finding of widespread peritoneal metastases, noted Dr Lawrence. She said fortunately this patient was able to undergo radiofrequency ablation and has experienced significant clinical improvement since the procedure.
"We hope that our case encourages practicing endocrinologists and internists to recognize radiofrequency ablation as an alternative to adrenalectomy for hormonally active adrenal tumors, primary adrenal neoplasms, or adrenal metastases," said Dr Lawrence. "There are several conditions that preclude patients with adrenal lesions from undergoing traditional adrenalectomy. Patients may be poor surgical candidates due to advanced age, comorbid conditions, previously undergone contralateral adrenalectomy, or refuse surgery."
She noted that radiofrequency ablation may be performed in the inpatient or outpatient setting by experienced interventional radiologists without general anesthesia in select patients. In this case, the patient experienced minimal blood loss, no adverse complications and was discharged after 23 hours of observation.
"Adrenalectomy carries a higher morbidity and mortality, as well as longer length of hospital stay and cost," said Dr Lawrence.
She explained that retrospective analyses of radiofrequency ablation in small numbers of patients have shown resolution of abnormal labs and clinical symptoms. A survival benefit is also seen in patients with functional adrenal tumors post-ablation, and to a lesser degree in patients with metastatic disease.
"To date, there have been no randomized controlled trials comparing safety, efficacy, and survival benefits of adrenalectomy vs radiofrequency ablation. Further studies are needed in larger groups of patients with long-term follow-up before radiofrequency ablation could replace adrenalectomy," said Dr Lawrence.
Dr Lawrence reports no relevant financial relationships with any commercial interests.
Reference
Rodriguez A, Lawrence L, Hasan F, Yasmeen T. Abstract 115. Radiofrequency Ablation: An Innovative Treatment for Adrenal Neoplasms. Presented at: AACE 25th Annual Scientific & Clinical Congress; May 25-29, 2016; Orlando, FL.