June 04, 2016
Left Adrenal Vein Aldosterone Ratio May Help Predict Right-Sided Unilateral Disease in Primary Aldosteronism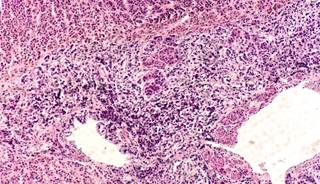 Left adrenal vein aldosterone ratio may identify right-sided unilateral disease.
ORLANDO, Fla. — The aldosterone-to-cortisol ratio of the left adrenal vein when compared with the ratio in the inferior vena cava (LAV/IVC) may be able to accurately discriminate between unilateral and bilateral disease in the setting of failed cannulation of the right adrenal vein (RAV) in patients with primary aldosteronism undergoing adrenal venous sampling, according to a new study.
The results were presented at the American Association of Clinical Endocrinologists (AACE) 25th Annual Scientific & Clinical Congress.
Researchers looked at 120 patients with primary aldosteronism (57 with bilateral and 63 with unilateral disease) and found that cortisol-corrected LAV/IVC aldosterone ratio with a cutoff value of less than 0.5 performed well in identifying patients with right-sided unilateral disease.
"When the right adrenal vein is not successfully catheterized during adrenal vein sampling for primary aldosteronism, marked suppression of aldosterone production from the left adrenal gland predicts unilateral right adrenal gland disease and can be used to guide surgical management," said study investigator William Young Jr, MD, MSc, chair of the division of endocrinology, diabetes, metabolism, and nutrition and professor of medicine at the Mayo Clinic College of Medicine, Rochester, Minnesota.
Dr Young and colleagues conducted a retrospective analysis of prospectively collected data on patients with primary aldosteronism who underwent adrenal vein sampling from 2010 to 2016. The researchers only included patients with a conclusive diagnosis of primary aldosteronism and successful bilateral adrenal vein sampling as confirmed by LAV/IVC and RAV/IVC cortisol ratio >5:1 during continuous cosyntropin infusion.
The researchers defined unilateral disease as an aldosterone lateralization ratio (ALR) ≥4 on adrenal vein sampling and an undetectable plasma aldosterone concentration following unilateral adrenalectomy off spironolactone/eplerenone. Bilateral adrenal aldosterone hypersecretion was defined as an ALR <3.
The researchers took an extra step to make sure that their findings were valid by using previously published LAV/IVC aldosterone ratio thresholds of ≥5.5 for left and ≤0.5 for right-sided disease. The investigators evaluated the ability of the test to discriminate unilateral from bilateral disease, and the ability to predict the presence of right or left unilateral disease.
Among the 63 patients with unilateral disease, 33 had left and 30 had right unilateral disease. All the adrenal vein sampling procedures were performed by a single experienced interventional radiologist who had a 95% success rate.
The researchers found that LAV/IVC aldosterone values were significantly different between unilateral and bilateral disease (P<.0001). The range included 0.03 to 1.3 for right, 0.7 to 13.6 for left, and 0.54 to 11.8 for bilateral disease. They reported that cortisol-corrected LAV/IVC aldosterone ratio utilizing cutoff values of >5.5 and <0.5 yielded sensitivity of 55%, specificity of 91%, positive predictive value (PPV) of 88%, and negative predictive value (NPV) of 65%. The cutoff values were found to have sensitivity of 77% and specificity of 100% for right unilateral disease. Additionally, PPV was 100% and NPV was 93% for right unilateral disease. The findings were different for left unilateral disease: the cutoff values yielded sensitivity of 36% and specificity of 94%. PPV was 71% and NPV was 80%.
The researchers concluded that cortisol-corrected LAV/IVC aldosterone ratio with a cutoff value of <0.5 performed well in identifying patients with right-sided unilateral disease. Nevertheless, they found that the utilization of LAC/IVC aldosterone ratio of >5.5 would have resulted in unilateral adrenalectomy in 29% of patients with bilateral disease. In their abstract, they wrote that based on these findings, a cutoff of 5.5 cannot be reliably employed as a means of identifying left-sided unilateral disease.
"Patients with primary aldosteronism may have unilateral aldosterone-producing adenomas that can be cured with unilateral adrenalectomy. However, about two-thirds of patients with primary aldosteronism have bilateral hyperplasia, and these patients should be treated medically. Adrenal vein sampling is the criterion standard test to determine if a patient with primary aldosteronism has unilateral adrenal disease. However, this is a technically challenging procedure, especially cannulating the small right adrenal vein. At high-volume centers, the bilateral adrenal vein sampling success rate is 95%. However, at low-volume centers the success rate may be as low as 30%," Dr Young told Endocrinology Advisor.
Reference
Strajina VA, AlHilli Z, Andrews J, et al. Abstract 1312. Primary Aldosteronism: Utility of Left Adrenal Vein Aldosterone Ratio to Predict Unilateral Disease. Presented at: AACE 25th Annual Scientific & Clinical Congress; May 25-29, 2016; Orlando, FL.