July 07, 2016
Type 2 Diabetes May Affect Brain Gray Matter Volume in Youths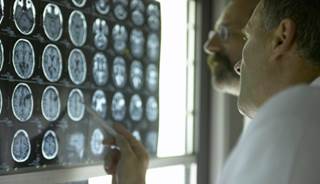 Brain gray matter volume appeared to be significantly different in patients with diabetes.
NEW ORLEANS — The effects of type 2 diabetes on the brain may be detectable in patients aged younger than 20 years — an earlier age than previously recognized.
A study presented at the American Diabetes Association (ADA) 76th Scientific Sessions has found that youth who have been diagnosed with type 2 diabetes for even a very short duration show significant differences in gray matter volume.
"There have been previous studies in youth with type 2 diabetes demonstrating regions of structural brain changes. However, gray matter volume differences between type 2 diabetes youth and healthy matched controls had not been comprehensively assessed," said study investigator Jacob Redel, MD, a clinical fellow in the division of endocrinology at Cincinnati Children's Hospital Medical Center, Cincinnati, Ohio. "We hypothesized that we would find some areas of structural differences between the 2 groups, but did not know how significant the differences would be."
The structural differences were pronounced, he noted. The researchers compared youth with type 2 diabetes with healthy controls and found that the cohort of patients with diabetes had decreased total gray matter volume (717cm3 vs 656 cm3).
What was also notable was that the study showed the youth in the diabetes cohort had 6 regions with significantly less gray matter volume than controls, according to Dr Redel. In these 6 regions, 5 were within the temporal lobe and 1 in the cingulate gyrus. The diabetes cohort was also found to have 3 regions with significantly greater gray matter volume than controls. The 3 regions included 2 in the subcortical areas and 1 in the frontal lobe area.
"Endocrinologists are well aware of the many potential sequelae of type 2 diabetes. These data demonstrate that we should also consider brain structural changes as a potential outcome in patients with type 2 diabetes. The study provides even more evidence for the importance of preventing type 2 diabetes by intervening early in life when necessary," Dr Redel told Endocrinology Advisor. "We do not know of any studies looking at therapies to prevent gray matter changes in type 2 diabetes."
Dr Redel and his team examined differences in total and regional brain gray matter volumes in 20 youth with type 2 diabetes for this investigation. This cohort had a mean disease duration of 2.8 years and a mean HbA1c of 7.9 %. These youths were matched to 20 race-, sex-, and age-matched controls. All 40 participants were found to be free of any neuropsychological disease. Exclusion criteria included a prior abnormal MRI. The investigators used high-resolution T1-weighted structural MRI scans, tissue segmentation analysis, and voxel-based morphometry for their comparison.
Dr Redel said the team established a statistical significance for each voxel at P<.05 after they controlled for multiple testing using a family-wise error rate procedure. He only reported on clusters with ≥200 contiguous voxels.
"The study demonstrates that youth with type 2 diabetes, even within a few years of diagnosis, can have differences in brain gray matter volume compared with healthy peers. We found 6 areas of decreased gray matter in the type 2 diabetes group and 3 areas of increased gray matter in the type 2 diabetes group," he noted.
It is uncertain what the clinical implications are from this current investigation, and Dr Redel said more studies with larger numbers of participants are warranted. Previous studies had demonstrated that type 2 diabetes affects brain structure and others had also shown that patients with type 2 diabetes had poorer cognitive function scores compared with their peers. However, this is the first study to report comprehensively on total brain volume and regional brain volume changes in youth with type 2 diabetes, according to Dr Redel.
"We cannot yet determine whether or not these changes explain the changes in cognitive scores demonstrated in other studies. Prospective studies with larger cohorts would be helpful in making this determination," said Dr Redel.
Disclosures: The researchers report no conflicts of interest.
Reference
Redel JM, Vannest J, Altaye M, et al. Abstract 376-OR. Brain Gray Matter Volume Changes in Youth with Type 2 Diabetes. Presented at: ADA 76th Scientific Sessions; June 10-14, 2016; New Orleans, LA.