August 25, 2015
Delayed-Release Metformin May Offer Same Glucose Control at Lower Doses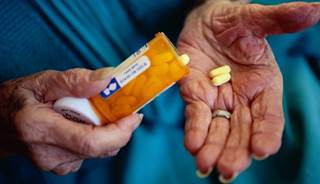 The bioavailability of 1,000 mg metformin extended releases was about half of that of immediate- and extended-release formulations.
HealthDay News — Delayed-release metformin formulations, designed to be delivered into the lower bowel, may enable patients to ingest a lower dose of the drug and experience equivalent fasting plasma glucose control as extended-release formulations, according to research published online in Diabetes Care.
John B. Buse, MD, PhD, from the University of North Carolina School of Medicine at Chapel Hill, and colleagues conducted two studies to assess delayed-release metformin (Met DR). The first study compared the bioavailability of single daily doses of Met DR with immediate-release metformin (Met IR) and extended-release metformin (Met XR) in 20 otherwise healthy volunteers.
Participants were randomly assigned to four treatment arms: 500 mg Met DR, 1,000 mg Met DR, 1,000 mg Met IR, and 2,000 mg Met XR. They were given a single dose, followed by a washout period, and then then twice daily doses of Met DR and IR, and a once daily dose of Met XR. The researchers measured plasma metformin concentrations at multiple intervals. Median time to the first nonzero concentration ranged from 6 to 7 hours after the first doses of Met DR compared with less than an hour for the Met IR and Met XR formulations, the researchers found.
The second study examined glycemic control in 240 individuals with type 2 diabetes who were randomly assigned to six treatment arms for 12 weeks: 600, 800, or 1,000 mg Met DR once daily (these arms were double-blinded), placebo, or 1,000 mg or 2,000 mg Met XR.
The researchers found that the bioavailability of 1,000 mg Met DR was about half of that of Met IR and Met XR. There were significant, clinically relevant, and sustained reductions in fasting plasma glucose levels with Met DR compared with placebo, with about a 40% increase in potency versus Met XR.
At 12 weeks, the placebo-subtracted changes from baseline in hemoglobin A1c were consistent with fasting plasma glucose changes. Treatments were generally well tolerated, according to the researchers. Adverse events occurred in 12.5% to 17.5% of patients in the treatment arms.
"Dissociation of the glycemic effect from plasma exposure with gut-restricted Met DR provides strong evidence for a predominantly lower bowel-mediated mechanism of metformin action," the researchers wrote.
Disclosures: Several authors disclosed financial ties to pharmaceutical companies, including Elcelyx Therapeutics, which funded the study.
Reference