October 26, 2015
Intensive Lifestyle Intervention Improves Gastrointestinal Symptoms in Type 2 Diabetes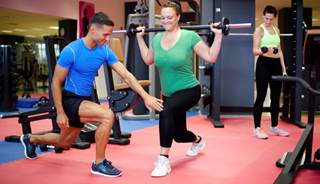 An intensive lifestyle intervention may harbor gastrointestinal benefits in type 2 diabetes.
(HealthDay News) — An intensive lifestyle intervention can reduce gastrointestinal symptoms among overweight and obese adults with type 2 diabetes, according to research published in Clinical Diabetes.
Rebecca H. Neiberg, from the Wake Forest School of Medicine in Winston-Salem, North Carolina, and colleagues examined whether an intensive lifestyle intervention would reduce gastrointestinal symptoms over 4 years of follow-up.
Overweight and obese adults with type 2 diabetes were randomly assigned to intensive lifestyle intervention or diabetes support and education as part of the Action for Health in Diabetes (Look AHEAD) trial.
The researchers found that there was a significant reduction in the prevalence and severity of gastrointestinal symptoms over 4 years in the intensive lifestyle intervention group. The largest reductions were seen for bloating, heartburn, and regurgitation.
The greatest benefits tended to be seen in the first year of the intervention, which also saw the greatest reductions in weight. The intervention effects were accounted for by inclusion of 1-year weight losses in models. After adjustment for metformin and insulin use, the gastrointestinal benefits of the intervention were evident.
"Our findings suggest that weight loss through an intensive lifestyle change intervention may be beneficial to many obese individuals with type 2 diabetes who suffer from most common gastrointestinal symptoms," the researchers wrote.
The Look AHEAD trial was funded by pharmaceutical and weight loss nutrition companies.
Reference