February 10, 2017
Does Air Pollution Exposure Up Type 2 Diabetes Risk?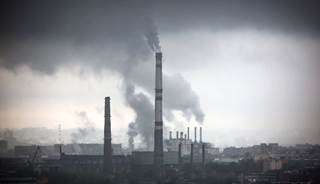 In overweight or obese children, the presence of smog results in an elevated risk of type 2 diabetes.
HealthDay News—High levels of air pollution may increase some Hispanic children's risk of type 2 diabetes, according to a study published online in Diabetes.
Researchers followed 314 overweight or obese Hispanic children in Los Angeles County. The children were between 8 and 15 years old when the study started, and none had diabetes.
The researchers found that elevated concentrations of nitrogen dioxide and particulate matter with aerodynamic diameter less than 2.5 were associated with a faster decline in insulin sensitivity and a lower insulin sensitivity at age 18 independent of adiposity. The team also found faster decline in disposition index and a lower disposition index at age 18 associated with nitrogen dioxide exposure.
"Diabetes is occurring in epidemic proportion in the United States and the developed world," senior author Frank Gilliland, MD, PhD, of the Keck School of Medicine at the University of Southern California in Los Angeles, said in a university news release. "It has been the conventional wisdom that this increase in diabetes is the result of an uptick in obesity due to sedentary lifespans and calorie-dense diets. Our study shows air pollution also contributes to type 2 diabetes risk."
Reference
Alderete TL, Habre R, Toledo-Corral CM, et al. Longitudinal associations between ambient air pollution with insulin sensitivity, β-cell function, and adiposity in Los Angeles Latino children [published online January 30]. Diabetes. doi: 10.2337/db16-1416