September 21, 2016
DURATION-8: Combo Exenatide, Dapagliflozin Improve Outcomes in Type 2 Diabetes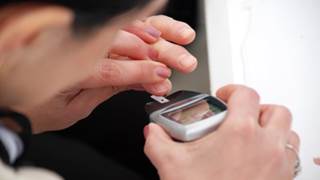 The combination treatment improved glycemic control and cardiovascular risk factors in type 2 diabetes.
Study results demonstrated that combination exenatide and dapagliflozin may be a safe and effective option for patients whose type 2 diabetes is inadequately controlled on metformin monotherapy.
"[T]he concomitant addition of weekly exenatide and dapagliflozin in patients with poor glycemic control on metformin alone was associated with significantly greater reductions than either individual therapy in glycemic parameters, including HbA1c, fasting and postprandial glucose, and significantly higher reductions in weight and blood pressure," Cristian Guja, MD, from the department of diabetes, nutrition, and metabolic Diseases at Carol Davila University of Medicine and Pharmacy, Bucharest, Romania, said during his presentation at the European Association for the Study of Diabetes (EASD) 2016 Annual Meeting.
In the multicenter, phase 3, double-blind, randomized DURATION-8 trial (ClinicalTrials.gov identifier: NCT02229396), Dr Guja and colleagues assigned 695 patients to 1 of 3 treatment groups: 2 mg of once-weekly exenatide plus 10 mg of once-daily dapagliflozin (n=231), dapagliflozin with once-weekly placebo injections (n=233), or exenatide with once-daily placebo tablets (n=231 with 1 untreated). Patients continued their existing metformin regimen during the 28-week study period.
At baseline, patients had a mean age of 54.2 years, 47.9% were male, and 83.6% were Caucasian. Mean duration of type 2 diabetes was 7.4 years; mean HbA1c was 9.3%; and mean BMI was 32.7.
At 28 weeks, there was a –2.0% change in HbA1c (95% CI, –2.1 to –1.8) in the combination therapy group from baseline compared with –1.4% (95% CI, –1.6 to –1.2) in the dapagliflozin group and –1.6% (95% CI, –1.8 to –1.4) in the exenatide group. There was a between-group difference of –0.4% for combination therapy vs exenatide (95% CI, –0.6 to –0.1; P= .004) and a between-group difference of –0.6% for combination therapy vs dapagliflozin (95% CI, –0.8 to –0.3; P<.001).
Patients in the combination therapy group also experienced greater weight loss (P≤.025), with a larger proportion of patients experiencing weight loss of at least 5% (P≤.025). The combination therapy group also had reduced systolic blood pressure (P≤.025) as well as larger reductions in rates of postprandial glucose and fasting glucose (P≤.025).
Regarding safety and efficacy of the combination therapy, Dr Guja said, "There were no new safety signals and the safety profile was consistent with that expected from each individual agent."
Disclosures: The trial was funded by AstraZeneca. Several investigators report financial ties to pharmaceutical companies.
For more coverage of EASD 2016, click here.
References
Guja C. DURATION-8 study: dapagliflozin and exenatide QW combination. Presented at: EASD 2016 Annual Meeting; September 12-16, 2016; Munich, Germany.
Frías J, Guja C, Hardy E, et al. Exenatide once weekly plus dapagliflozin once daily versus exenatide or dapagliflozin alone in patients with type 2 diabetes inadequately controlled with metformin monotherapy (DURATION-8): a 28 week, multicentre, double-blind, phase 3, randomised controlled trial. Lancet Diabetes Endocrinol. 2016. doi: 10.1016/S2213-8587(16)30267-4.