September 13, 2016
ANGPTL2 Linked With Death, MACE in Type 2 Diabetes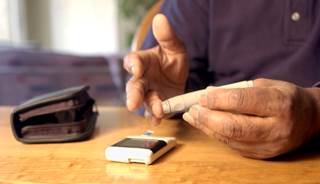 Elevated levels of a growth factor protein may signal increased death risk in type 2 diabetes.
Serum concentrations of angiopoietin-like 2 (ANGPTL2) in patients with type 2 diabetes were significantly associated with death and major adverse cardiovascular (CV) events (MACE), according to findings presented at the European Association for the Study of Diabetes (EASD) 2016 Annual Meeting.
"We expected that ANGPTL2 — a biomarker related to chronic inflammation, insulin resistance, and atherosclerosis — would prove to somewhat improve CV risk stratification in diabetic patients on top of classical risk markers that are included in validated risk calculator engines; however, we did not expect that it would be such an extremely powerful tool, independently associated with all-cause death," Barnabas Gellen, MD, PhD, study investigator from Elsan, Polyclinique de Poitiers, Poitiers, France, told Endocrinology Advisor.
Senior study author Samy Hadjadj, MD, of the CHU de Poitiers Centre d'Investigation Clinique, Poitiers, France, said in an interview that the catalyst for the study was the understanding that ANGPTL2 is an important protein of inflammation, as well as the previous research indicating the effects of tumor necrosis factor receptor 1 and adrenomedullin. "Thus we considered ANGPTL2, owing that the concentration of the protein was prognostic of the development of type 2 diabetes," Dr Hadjadj said. "However, among diabetic patients, the prognostic role of this protein was completely unknown."
The study included a prospective, monocentric cohort of consecutive patients with type 2 diabetes (n=1353; 58% men; mean age, 64 ± 11 years) followed for a median of 6 years. The primary end point was death and the secondary end point was MACE, defined as CV death, myocardial infarction, or stroke.
Researchers from several institutions in France and the Montreal Heart Institute divided patients into quartiles of ANGPTL2 concentrations at inclusion: quartile 1, <11.2 ng/mL; quartile 2, 11.2-14.7 ng/mL; quartile 3, 14.8-19.5 ng/mL; and quartile 4, >19.5 ng/mL.
According to results, 367 patients died and 290 patients experienced MACE at follow-up. Researchers reported significant differences for survival and MACE-free survival between ANGPTL2 quartiles (P for death and MACE <.0001).
Compared with patients who had ANGPTL2 levels of 19.5 ng/mL or less, those in the fourth quintile were at a significantly increased risk for death (hazard ratio [HR]=2.44; P<.0001) and MACE (HR=2.43; P<.0001) after adjustment for sex, age, and established CV risk factors.
In addition, prediction of the risk of mortality was significantly improved using ANGPTL2 concentrations (P=.0002).
"In the near future, CV risk stratification of diabetic patients could be significantly improved by integrating novel biomarkers, such as ANGPTL2, in risk stratification engines," Dr Gellen said. "This might help to optimize targeted early CV screening in high-risk patient groups, and thereby prevent CV events and improve survival.
Dr Gellen added that in the future, ANGPTL2 might become a therapeutic target to contain CV damage in patients with diabetes. "The way for a biomarker to become a proven and successful therapeutic target, such as brain natriuretic peptides in cardiology, is long and might take more than a decade," he said.
Dr Gellen cautioned, however, that the study is hypothesis-generating. "Indeed it shows a strong association of CV adverse events and death with ANGPTL2 concentrations, but it does not prove causality or contribute to a better understanding of the mechanistic link between circulating ANGPTL2 and CV events," he said. "Thus, further studies are needed to confirm our observations and dig deeper into the underlying pathophysiological mechanisms."
Results of the study were published online ahead of print in the journal Diabetologia.
Disclosures: Dr. Gellen has received speaker's fees from AstraZeneca, Daiichi Sankyo, Novartis and Servier, and has participated in advisory boards for Novartis. Dr. Hadjadj has served as a consultant and/or on advisory panels for AstraZeneca/Bristol-Myers Squibb; has received honorarium or speaking fees from Abbott, AstraZeneca/Bristol-Myers Squibb, Boehringer Ingelheim, Eli Lilly, Janssen, Merck Sharpe Dome, Novartis, Novo Nordisk, Sanofi, Servier and Takeda; has received research grants from Abbott and Takeda; and has received travel grants from AstraZeneca/Bristol-Myers Squibb, Janssen, Merck Sharpe & Dome and Sanofi.
For more coverage of EASD 2016, click here.
References
Fraty M. Oral Presentation 60. Angiopoietin-like 2 is prognostic for all-cause death in patients with type 2 diabetes. Presented at: EASD 2016 Annual Meeting; September 12-16, 2016; Munich, Germany.