October 24, 2014
Intensive Glycemic Therapy Slows Neurodegeneration in Diabetes
the Endocrinology Advisor take:
A previous analysis of ACCORD-MIND (Action to Control Cardiovascular Risk in Diabetes Memory in Diabetes) published in Diabetes Care suggested that treatment-related hypoglycemia does not affect brain pathology, specifically citing changes in white matter or brain atrophy, in patients with type 2 diabetes.
However, another analysis of the trial, also published in Diabetes Care, indicates that diabetes characteristics are linked to specific patterns of brain changes. Further, researchers also discovered an association between gray matter loss and the type of glycemic therapy used.
For this study, the researchers examined baseline MRIs of 488 ACCORD-MIND participants with type 2 diabetes. New voxel-based analysis methodology was employed to detect spatially specific patterns of gray and white matter volume loss. They looked at these patterns in relation to diabetes duration and HbA1c.
Forty-month follow-up data were evaluated via longitudinal analysis to identify differences in progression of volume loss among patients who received intensive glycemic treatment and those who received standard glycemic treatment.
Results revealed significantly lower gray matter volumes, mostly in certain areas of the frontal and temporal lobes, in those who had diabetes longer, the researchers reported.
They also found a heterogenous pattern of decelerated loss of gray matter volume that was associated with intensive glycemic treatment. In particular, volume loss was decelerated with intensive glycemic treatment, specifically in regions adjacent to those cross-sectionally associated with diabetes duration.
Relationship between low vs. high baseline HbA1c levels and brain changes did not emerge, according to the researchers.
Data also showed that brain regions in which cognitive change was linked to volume loss only slightly overlapped with regions associated with diabetes duration and with treatment effects.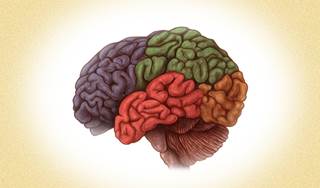 Intensive Glycemic Therapy Slows Neurodegeneration in Diabetes
Another analysis of the ACCORD-MIND trial has associated intensive glycemic therapy with potential changes in the brain of patients with type 2 diabetes.
Although previous research demonstrates that treatment-related hypoglycemia has little effect on the brain, the type of therapy may actually play a role.
These findings shed light on how different diabetes therapies may affect the brain.
Sign Up for Free e-Newsletters
Check out what's trending
CME Focus