August 30, 2016
How Do We Use Technology for Diabetes Management?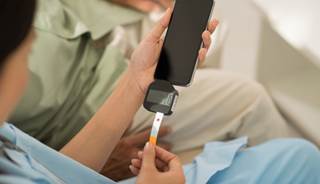 New technologies have the potential to improve diabetes management.
I was strolling at a shopping mall while running errands recently, and I was struck by the number of individuals wearing a FitBit or similar device. This got me thinking, "What about diabetes? What's the role for technological tools specifically for individuals living with this disease, and can these resources help them thrive?" Can health apps revolutionize diabetes care the way smartphones and tablets changed how we shop, work, and spend our leisure time?
The World Health Organization defined mobile health, or mHealth, as the "medical and public health practice supported by mobile devices."1 Nineteen percent of adults in the United States used at least 1 health-related mobile app in 2014.2 Nearly 100 000 health-related apps are featured in the Google Play and Apple iTunes App Stores.3 These applications, or apps, can potentially inform and inspire by helping patients and physicians track self-monitoring blood glucoses (SMBGs), weight, dietary intake, as well as other functions.
With all due respect to my sisters and brothers in the medical profession, we have generally been far too slow in adapting these technological innovations to health care — who else uses pagers and fax machines regularly as first-line options to communicate? Up until just several years ago, electronic medical records (EMRs) were not widely used.
I strongly believe that we must harness technology to help make our patients' lives better. Technology can help patients by 1) facilitating attaininment and maintenance of glycemic control, 2) enhancing engagement and motivation, rather than seeing self-management tasks as noisome chores, and 3) sharing these data with their physicians, certified diabetes educators (CDEs), registered dietitians (RDs,) and other members of their health care professional team. Ultimately, these goals all serve and underpin the quest for better quality of life.
1. We should balance enthusiasm with caution.
I believe that anything — whether a digital or electronic resource or not — that enhances engagement of patients with diabetes should be applauded. But this burgeoning industry, which is estimated to grow from $1.3 billion currently to $20 billion by 2018, is unregulated. Some apps for calculating insulin doses, for instance, may be rife with alarming problems. According to one study, 67% of these apps potentially recommended inappropriate doses, and 91% were not validated to ensure the quality of data that the user entered.4
While we collectively work on approaches to ensure both safety and quality of these apps, we must both advise our patients, as well as ourselves, to proceed with caution.
2. There is always room for improvement, and we should be mindful of patients' feedback.
More than 1100 diabetes smartphone apps are presently available, making this condition the leader in terms of having the largest number of apps.2 While the development and appearance of apps on the market have been explosive, the research on effectiveness and outcomes has not kept pace.
One study examined patients' reactions and perceptions of using apps to track chronic conditions, including diabetes.5 Interviews were conducted with 7 health care professionals and 22 patients living with multiple chronic conditions, the most common of which was type 2 diabetes. One study participant noted, "You get reminded you're a sick person." Moreover, many found tracking SMBGs to be "cumbersome" or viewed this task as "work." Is there a way to redesign these apps to lessen this sense of negative emotions?