September 08, 2014
Thyroid Cancer, Nodular Disease Risk Increased in Acromegaly
the Endocrinology Advisor take:
Thyroid nodular disease and thyroid cancer prevalence appears to be higher in patients with acromegaly, according to a study published in PLOS One.
Historically, the data on the prevalence of thyroid disease in this patient population has been conflicting, but as the incidence of thyroid cancer rises, researchers sought a more definitive answer to whether patients with acromegaly are more likely to have benign or malignant thyroid disease.
Consequently, the researchers conducted a cross-sectional study on the prevalence of goiter, thyroid nodules and thyroid cancer in patients with acromegaly as compared with a control group. The study involved patients from six Spanish university hospitals.
A total of 123 patients with acromegaly (50% men; mean age, 59 years) were included in the study. Mean disease duration was 6.7 years. A group of 50 controls (51% men; mean age, 58 years) were also evaluated. Thyroid ultrasound and fine needle aspiration were conducted in all participants. The researchers performed cytological analysis in suspicious nodules sized 0.5 cm to 1.0 cm and in all nodules greater than 1.0 cm.
Goiter was more common in patients with acromegaly vs. controls (24.9% vs. 8.3%; P<.001). Similarly, nodular thyroid disease and nodules exceeding 1 cm in size were also more prevalent in these patients (64.6% vs. 28.6%; P<.05 and 53.3% vs. 28.6%; P<.05). All underwent fine needle aspiration.
Four patients with acromegaly had suspicious cytology compared with no controls. Papillary thyroid carcinoma was confirmed in two cases after thyroidectomy (3.3% of patients with thyroid nodules), which represented 1.6% of those with acromegaly (2.4% including a case with previously diagnosed papillary thyroid carcinoma).
Routine ultrasound screening for thyroid nodules is therefore warranted in patients with acromegaly, the researchers concluded.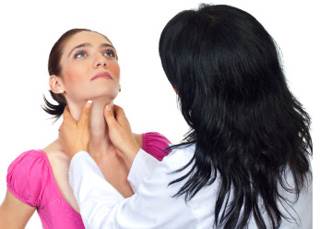 Thyroid Cancer, Nodular Disease Risk Increased in Acromegaly
Data on the prevalence of benign and malignant nodular thyroid disease in patients with acromegaly is a matter of debate. In the last decade an increasing incidence of thyroid cancer has been reported. One hundred and twenty three patients (50% men; mean age 59±13 years; disease duration 6.7±7.2 years) and 50 controls (51% males, mean age 58±15 years) were studied.
Sign Up for Free e-Newsletters
Check out what's trending
CME Focus