September 16, 2015
Academic Performance Comparable in Accelerated vs. Conventional MD Programs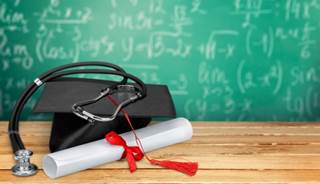 Medical students appear to perform just as well academically in an accelerated MD program.
(HealthDay News) — An accelerated baccalaureate (BA)/doctor of medicine (MD) program does not impair the academic performance of medical students, according to a study published in Academic Medicine.
Marianne M. Green, MD, from the Northwestern University Feinberg School of Medicine in Chicago, and colleagues compared educational outcomes of programs that offer a combined BA/MD degree program, which truncates the premedical phase, with programs offering conventional pathways.
Data were compared for 2,583 medical students in the Honors Program in Medical Education (HPME; an accelerated 7-year program) vs. non-HPME students entering the Northwestern University Feinberg School of Medicine.
The researchers found that 21.7% of students entered through the HPME program. On average, they were younger and less likely to belong to a racial/ethnic group underrepresented in medicine. No significant differences were seen in Alpha Omega Alpha selection, quintile performance distribution or United States Medical Licensing Examination scores.
Compared with non-HPME students, more HPME students entered internal medicine (35.8% vs. 20.6%), while fewer selected emergency medicine (5.6% vs. 8.7%) and obstetrics-gynecology (2.0% vs. 5.3%).
"The academic performances of medical students in the two programs studied were equivalent," the researchers wrote. "Accelerated BA/MD programs might play a role in ameliorating the length and cost of a medical education."
Reference