September 08, 2015
Self-Monitoring and Combined Diet, Exercise Interventions Best for Postpartum Weight Loss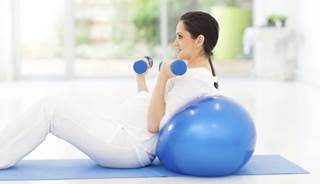 Self-Monitoring and Combined Diet, Exercise Interventions Best for Postpartum Weight Loss
(HealthDay News) — For postpartum women, lifestyle interventions that include a combined diet-and-exercise approach and those that use self-monitoring are associated with greater weight loss, according to a study published in Obesity Reviews.
Siew Lim, MND, PhD, from the Greater Green Triangle University in Hamilton, Australia, and colleagues conducted a systematic review to identify lifestyle intervention strategies associated with weight loss in postpartum women within 12 months of delivery. Forty-six studies were included in the systematic review, and 32 randomized trials, involving 1,892 women, were eligible for meta-analysis.
The researchers found that there was significantly greater weight loss in studies with self-monitoring vs. those without (−4.61 kg vs. −1.34 kg). Compared with physical activity alone, diet and physical activity were significantly more effective for weight loss when combined (−3.24 kg vs. −1.63 kg).
"This systematic review and meta-analysis found that the most effective lifestyle intervention strategies are self-monitoring and the combined approach of diet and exercise, both of which increase weight loss in postpartum women," the researchers wrote.
"Future research should focus on determining the optimum intervention duration, delivery format, and the role of technology in lifestyle intervention for this group."
Reference