August 28, 2016
Bariatric Surgery May Up Risk for Premature Birth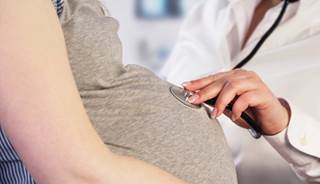 Women who have had bariatric surgery may be more likely to give birth prematurely.
(HealthDay News) — Pregnant women who have had bariatric surgery may have increased odds for premature delivery, according to a research letter published in the New England Journal of Medicine.
Olof Stephansson, MD, PhD, of the Karolinska Institute in Stockholm, and colleagues assessed 1941 births to women who had undergone bariatric surgery. The investigators found that 8.4% were preterm (before 37 weeks' gestation). That compared with 6.8% among 6574 women who had not undergone bariatric surgery.
The researchers found that the risk of moderately preterm birth — between 32 and 37 weeks' gestation — was higher after bariatric surgery: 7.3% vs 5.7% among mothers who had not had bariatric surgery. However, no significant association was seen between bariatric surgery and very preterm birth (before 32 weeks).
"Women and their doctors should be aware of this risk increase, and women with previous bariatric surgery should be carefully monitored during pregnancy," Dr Stephansson told HealthDay.
Reference