August 03, 2015
Adding Phototherapy to Exercise Beneficial for Obese Women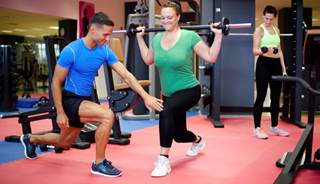 Combining exercise with phototherapy improved the metabolic profiles of women.
(HealthDay News) — Exercise training combined with phototherapy is associated with improvements in the metabolic profiles of obese women, according to a study published in Lasers in Surgery and Medicine.
Marcela Sene-Fiorese, PhD, from the University of São Paulo in Brazil, and colleagues examined the effects of exercise training (aerobic plus resistance exercises) plus phototherapy on metabolic profile and adiponectin in a cohort of 64 obese women.
For the study, participants were randomly assigned in a 1:1 ratio to receive exercise training plus phototherapy (ET-PHOTO) or exercise training plus sham (ET-SHAM). Treatment consisted of a physical exercise intervention followed by individual application of phototherapy at the end of the training session; the device simulating the phototherapy application was turned off in the ET-SHAM group.
Comparing the magnitude of the effects for ET-PHOTO vs. ET-SHAM, the researchers found that physical training plus phototherapy was more effective for reducing the delta of percentage of fat mass (P<.04), fat mass (P<.0002) and the homeostatic model assessment-insulin resistance index (HOMA-IR; P<.0001).
There was also an increase in delta of total skeletal muscle mass (P<.003) and adiponectin concentration (P<.03).
"Our results demonstrated for the first time that phototherapy enhances the physical exercise effects in obese women undergoing weight loss treatment," the researchers wrote.
Reference